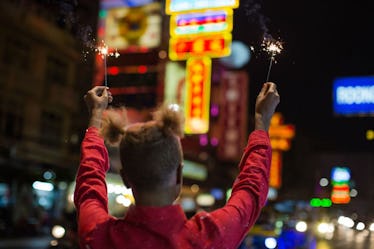 The Hottest Destinations To Celebrate NYE Are Officially Here & You're So Ready
It's time to get prepped for the biggest celebration of the year. That's right: You can start pulling out your champagne-colored dresses, red lipstick, and those extra sparklers that have been sitting in your closet since the Fourth of July. It may seem a bit early to everyone else, but who cares? You're ready for something new and exciting in your life, and for a night to remember with your best friends. Lucky for you, the best places to celebrate New Year's Eve 2018 have been revealed.
For some, this holiday is a reason to dress up and get together with friends. For others, it's a sweet time when you can cuddle up with your pup or significant other, and watch the ball drop in Times Square from the comfort of your couch. Some like to host a party with their roommates, and serve bubbly drinks (assuming their guests are 21 or over). Then, there are the true travelers — the girls who embrace the New Year's Eve spirit from somewhere else in the world. It's always a good time to get a passport stamp, right?
Celebrations are going on all over the world on this night, as people prepare for the start of something new. (*Cues High School Musical soundtrack.*) They're sending fireworks into the sky and toasting to the past adventures and future ones to come.
Don't miss out on the moment you get to clink your glass in the middle of a country you've never visited before. The best places to celebrate New Year's Eve 2018 have been revealed by Airbnb. Book a trip so that you're ringing in the new year the right way.
What are the best places to celebrate New Year's Eve 2018?
So, where exactly should you tell the pilot to go? Well, somewhere that's going to be as bright and bubbly as a glass of champagne. Truth is, you want a New Year's Eve that's different than anything you've ever had before.
According to Airbnb, the best places to celebrate this year include destinations like: Mexico City, Mexico; London, England; Tulum, Mexico; Miami, Florida; New Orleans, Louisiana; San Diego, California; Cartagena, Colombia; Chiang Mai, Thailand; Gold Coast, Australia; Brussels, Belgium; Phuket, Thailand; Seoul, South Korea; Kraków, Poland; and a few others.
The results were collected using data for bookings made between Nov. 2017 and Dec. 31, 2017 compared to ones already made for the same time period of this year. Out of all the places in the world, true travelers are attracting to Mexico City, Mexico the most — with this location seeing a 117 percent rate of growth in bookings within the past year.
Now, some of the findings may not surprise you, and others may be bucket list items that you've been waiting to check off. Why wait any longer? Get a head start on your New Year's resolution to "travel more," and scope out a new destination in just a few months.
Why should you toast to the new year in Mexico?
Think about your dreamiest New Year's Eve: It probably involved fireworks, sparklers, and a #fire playlist. You and your best friends wore lots of gold, and you may have shared a kiss with someone at midnight. Those have been some sweet traditions from year to year — but now it's time to change it up. Every destination celebrates a little bit differently, which is just another reason why you need to celebrate this holiday elsewhere.
Airbnb revealed that Mexico City was the most popular destination amongst travelers, within the past year. Maybe they wanted to tour all the sites, or unleash their inner influencer and pose against the artsy mosaics. Either way, this place should be on the top your bucket list, too.
For one, Mexico has some traditions of their own that you can partake in when you're there. According to an interview conducted by Airbnb with Abril, the host of a luxurious penthouse apartment based in Mexico City, you should have some wishes and resolutions prepared: "Every [New Year's Eve] night, while the 12 strikes of bells mark the end of the year, we make 12 wishes for the next year. [For every] one wish, [we eat] one grape until we eat the 12!"
What accommodations can you rent around the world for New Year's Eve 2018?
To be part of those traditions, you first need to book a place to stay. That's where thinking about New Year's Eve a little bit early isn't such a bad idea. There are tons of accommodations around the world for you and your besties to have the biggest celebration of the year. But, the ones you should scope out first are in those places that are proven to be a good time.
First things first: Check out an aesthetically-pleasing flat in Kraków, Poland for an adventure and a few pictures for the 'Gram. This loft has its own unique charm. With a large, antique mirror and white-washed brick walls, there are a thousand different backdrops waiting for you and your camera. Yes, please!
Next, head to Gold Coast, Australia for tropical weather and a modern apartment that has easy access to the casinos and beach. This kind of New Year's Eve getaway will require a bathing suit and a sparkly dress, so make sure that you pack both. Watching fireworks from the balcony or soaking in the sunshine during breakfast is also a must.
You might want to hop on a plane to Chiang Mai, Thailand to celebrate the new year. Upon arrival, check into a home that's surrounded by gardens, and relax on the canopy bed. A trek across the world for New Year's Eve will be worth it when you're exploring paradise with your people.
What should you consider if you're traveling on New Year's Eve?
So, you've decided that you're going to travel and find a sweet destination for New Year's Eve. What else do you need to keep in mind?
Well, take into consideration the best times to book a plane ticket. In my experience, the earlier you grab your seat, the better. The prices tend to be a lot lower, and there is variety of times and dates that you can fly. (As much as you love to procrastinate, now is not the time!)
Also start thinking about what you're going to pack in your suitcase. Travel light and only take the necessities like a camera, cute outfit, and comfortable pair of shoes. Maybe plan to paint your nails with a sparkly gold polish before you take off, and purchase a journal for the journey ahead. A few hours on a plane or laying in a cozy Airbnb in the middle of a new place are great times to get started on those resolutions, after all.