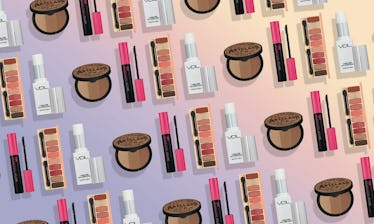 From Highlighters To Lip Stains, Here's The Best Korean Makeup You Buy On Amazon
Elite Daily/Amazon
I wouldn't dare challenge your familiarity with Korean skin care products (and if you don't have a sheet mask, an essence, or a BB cream in your stash, where ya been!?). Korean makeup, however, is a story less often told in the West. But there's really no reason for that, especially since you can get some of the best Korean makeup on Amazon.
Korean makeup trends tend to align closely with Korean skin care trends — "glassy," "dewy," and "flushed" are a few adjectives you'll see a lot to describe both Korean beauty and skin-care standards. The overarching aesthetic leans more "natural" than "Kardashian," but in Korean beauty in particular, a hint of playfulness still sneaks through. (For example, I'm obsessed, on several levels, with the "just-cried eyeshadow" trend.) For some more inspiration, or concrete direction about how to deploy the makeup you're about to see, start stalking some Korean beauty influencers and experts, like Risabae, Yoo's Beauty, and the Seoul-based salon Jennyhouse.
That said, you obviously don't need to use Korean beauty products strictly to recreate Korean beauty trends. Use them however you want! Just know that they might be a little less pigmented or concentrated, at least upon initial application, than you might be used to with other makeup brands. But you can always build them up to your desired level of drama, of course.
From a portable highlighter stick to a cult-favorite primer to a selection of fruity lip stains, playing around with the Korean makeup ahead can help you look like whichever K-Pop star you've most recently followed down a YouTube rabbit hole. (Or just like yourself, with some really good-quality makeup on.)
We only recommend products we love and that we think you will, too. We may receive a portion of sales from products purchased from this article, which was written by our Commerce team.