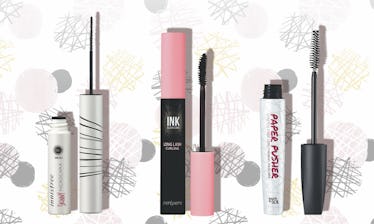 These Are The Best Mascaras For Short, Straight Eyelashes
Elite Daily/Amazon
While Korean beauty is most famous for its skin-care products, the makeup is equally as deserving of attention. And perhaps K-beauty's greatest contribution to the international makeup market is its mascaras, which amplify eyelashes better than most you find in a Western drugstore aisle. And though Asian makeup might have once been hard to get your hands on, many of the best Korean mascaras are now readily available on Amazon.
Because many folks of East Asian descent tend to have straighter, and sometimes shorter, eyelashes Korean mascaras are designed to lift, curl, lengthen, and volumize all at the same time. The waterproof technologies behind Japanese and Korean mascaras can also blow their Western competitors out of the water, so if you're looking for a smudge-proof formula, these are definite ones to consider.
On that note, because so many of these mascaras are designed to be smear-proof and last all day, you might want to pick up a special eye makeup remover to go with your new mascara. Many Asian brands make mascara-specific removal products or you can use one of the best micellar waters or oil cleansers, which should also do the job.
Ahead, you'll find the five best Korean mascaras you can buy on Amazon.