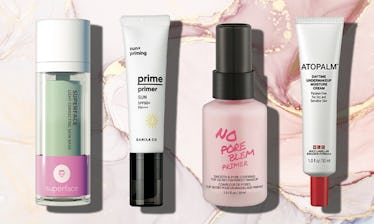 5 Innovative Korean Primers That Will Revolutionize Your Makeup Routine
Amazon/Elite Daily
At this juncture in history, I think beauty consumers are well aware of the magic of Korean makeup and skin care products. But the Korean beauty products that tend to get the most buzz are those that err on the unusual or uber-innovative side (see: snail serums, avocado-infused essences, and mayonnaise-inspired hair treatments). And while we can all get behind the occasional carbonated bubble mask, we can also look toward Korean brands for delivering high-performance formulations of makeup kit staples. Take the humble primer, for instance, which some of the best Korean primers have really nailed.
Why are the best Korean primers so great? Basically, for the same reason that so many other Korean beauty products are great: Because Korean brands tend to fuse brilliant cosmetic research with herbal, natural, time-tested ingredients to leverage the best of both worlds. Most Korean makeup is also designed with skin health in mind. So even though primers are typically considered more makeup than skin care product, the primers on this list are packed with skin-enhancing ingredients like collagen, herbal extracts, and nourishing lipids.
That's all in addition to doing what a good primer should: Either prep your skin for smoother and longer-lasting makeup application, or even out your skin tone if you're going makeup-free. But the primers on the list also target more particular preferences and concerns, like curbing shine, balancing out redness, or providing sun protection — so no matter what your skin wants or needs, I think you'll find a new go-to primer in one of these five Korean formulas, below.