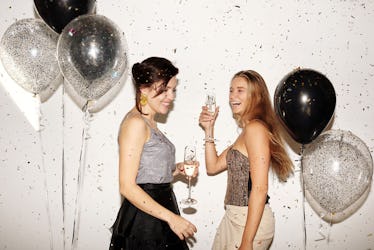 The Best Holiday Wines At Whole Foods Are Here & They'll Make You Look Like An Expert
It's the most wine-derful time of the year. The tinsel and fairy lights are strung with care, chocolate mint crinkle cookies are baking in the oven, and Michael Bublé's Christmas album is setting the vibes of the season. Before the holiday chaos fully sets in, you're so ready to curl up by the fireplace with your hot date: a mug of mulled wine. Between each sip, you're making a holiday bucket list, and checking it twice. (Buddy the Elf would be so proud.) You may very well be more organized than Santa's helpers, but the only thing you're stuck on is what wine to buy for your upcoming festivities. Don't get your tinsel in a tangle just yet, because the best holiday wines at Whole Foods 2018 (for those who are 21 or over) are here to spread some holiday cheer.
Whole Foods is kicking off the season with a gift just for you: their annual "Sommelier Best in Class Holiday Wines" list. Master Sommelier Devon Broglie and the global beverage buying team selected 21 fine wines that'll make your season especially merry and bright. If you're either nervous to branch away from your go-to brand, or don't really have a clue where to begin when choosing a great cabernet, Whole Foods has you covered. Rolling up to your bestie's party with any of these bottles will make you look (and feel) like a true wine expert.
In addition to hooking up your crew with an extremely impressive bottle of wine, your wallet will cry the happiest tears, because none of these bottles will set you back too much. (Keep in mind that some of the listed prices below can vary substantially from market to market.) According to a recent Whole Foods press release, these wines will be on sale for a limited time during the winter holidays at Whole Foods locations that carry alcohol. Here are six that are about to sleigh the season.