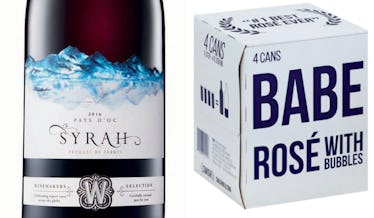 Walmart's Selection Of Cheap Wine Is Perfect To Bring To Your Thanksgiving Dinner Table
Whether you're hosting your yearly Friendsgiving celebration, going to your partner's Thanksgiving dinner, or if you're simply headed home for the holidays, it's usually a good call to bring along a bottle of wine wherever you go. And this year, just in time for the annual holiday, Walmart is selling a wide variety of super inexpensive wines that are guaranteed to be the perfect little cherry on top of your exciting fall feast. So, if you, too, thoroughly enjoy drinking at a discount, these cheap wines to buy from Walmart for Thanksgiving 2018 basically have me saying "you're welcome."
As a young millennial living in one of the most expensive cities in the world, it should come as no surprise that I'm all about saving cash. And, despite popular belief, you don't always have to break the bank to find a decent bottle of wine. Walmart wine is actually a prime example of that — the discount department store sells a variety of reds, whites, rosés, and even bubblies that are guaranteed to add the perfect touch to your Thanksgiving meal. The best part of it, however, is that each bottle is under $20. Yep, you heard me — so sit back, relax, and don't even think about that wallet of yours. Just focus on finding that perfect sip.