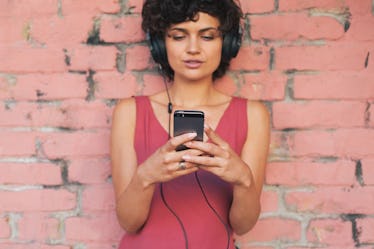 The Best Health & Wellness Podcasts To Listen To In 2019 For A Fresh Perspective On Life
2019 is right around the corner, friends, so you better believe I'm making a list and checking it twice. No, I'm actually not referring to my Christmas list this time around (though, don't you worry, that's taken care of, too); I'm jotting down a bunch of health and wellness podcasts to listen to in 2019 because, look, I don't know about you, but I'm super late to the streaming game, so I have a lot of catching up to do. I just recently started tuning in to a select few podcasts over the last few months, but now, it's pretty much become a hobby of mine to browse through Spotify and bookmark episodes to listen to. Needless to say, with a new year on the horizon, I want to have my roster ready.
OK, here's the deal, because you probably read that last paragraph in sheer disbelief that anyone could have gone this long without listening to a podcast at least once in their life, even if it wasn't on purpose. But here's something you need to understand about me, friends: I am way behind the times. I generally exist in my own little bubble, and I'm perfectly content with that. But when a friend of mine expressed her unconditional love for comedian and YouTube personality Jenna Marbles' podcast that she does with her boyfriend, Julien Solomita, called Jenna & Julien, and I had no idea what she was even referring to, that's when I realized I had to hop on this bandwagon.
If, by some chance, you, too, have been left in the dark on these amazing programs that take talk radio to the next level, consider this your invitation to join the party, friend. It's going to be a great time. And if you're specifically on the hunt for some health and wellness podcasts that'll inspire your lifestyle, give these programs a listen ASAP.