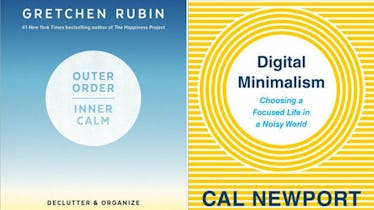 The Best Health & Wellness Books Coming Out In 2019 To Satisfy Your Reading Resolutions
Amazon
Can I let you in on a little secret? Resolutions don't have to be set on exactly Jan. 1, and you're not a failure if you have an intention in mind, but haven't acted on it yet. For example, maybe your objective is to read and consume more content that doesn't bring up feelings of FOMO, and instead, actually helps you live your best, most vibrant life. Well, not all must-read titles are available on Jan. 1, but you can make a list of the best health and wellness books coming out in 2019, mark their release dates on your calendar, and check them off as you go.
The way I see it, coming up with a list of aspirations may be an end-of-the-year tradition, but who actually has time to strategize their plan of attack during the holiday season? Take it from someone who loves New Year's resolutions, who also happens to be a little anal about making lists, checking them twice, and coloring in the squares when a task has been completed: January is the most optimal time to prepare for everything you want to conquer in the new year, especially if your New Year's resolution is to read more.
Personally, I'm always looking to add titles to my bookshelf, and my favorite way to browse the latest bestsellers — aside from hitting up my local Barnes & Noble because you know that place is my sanctuary — is through Goodreads. The literary hub is an amazing online database of books on books on books, where you can search by title, author, genre, and check out what other bookworms are raving about.
Lucky for us, Goodreads supplied Elite Daily with the most anticipated health and wellness titles for 2019, and trust me when I say you're going to want to pick up these new releases in the coming months.