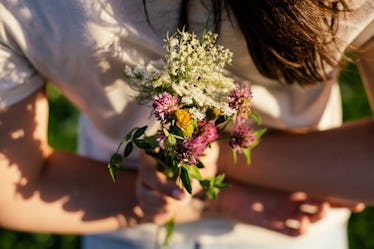 The Best Corsage For You To Wear To Prom, Based On Your Zodiac Sign
Spring and prom season have totally sprung. Sure, the sunny weather might suggest that summer is just around the corner, but first, you have to break out the heels instead of the bathing suits for a night you'll always remember. You've probably had dress shopping and alterations on your mind since midterms, and you can't believe prom weekend is finally here. You'll take a test and then book it to your hair appointment. The final touches, like picking out the best flowers for prom corsage, are sometimes the most important. Lucky for you, the universe has your back.
Maybe you're heading off to prom with a date, or are dressing up with your besties. You're all going to look beautiful, and I'm already tearing up a bit thinking about it, like a proud mom. You'll hop in a limousine with your ladies, and take a thousand pictures before the night is over. Seriously, can you tell that my nostalgia is so real right now?
Movies put a lot of hype behind prom, but can we blame them? You'll soon be telling your college roommates about your friends from home and what you wore on this day. The corsage is just a small detail, but one you won't want to look past during all of your planning. The flowers are already picked out by the stars.