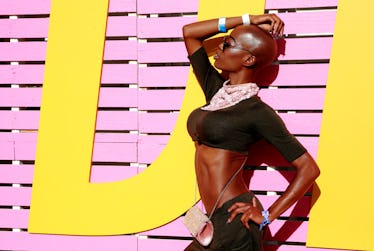 These Trendy AF People At Coachella Will Transport You To The Festival Grounds
Rich Fury/Getty Images Entertainment/Getty Images
If you woke up Monday morning with an unrealistic amount of FOMO, you likely didn't go to Coachella and are seeing the phenomenon all over social media. From Beyoncé crushing her performance to the star-studded parties and Instagram-worthy backdrops throughout the festival grounds, it was a tremendous time to be in the desert this past weekend. The best Coachella outfits are always the cherry topping to the event, and they're surely what had you scrolling through hashtags on the 'Gram.
The festival culture has evolved so much, and each year people become trendier and trendier. Maybe if you could have dressed up like some of these fashionable AF humans, missing out on such a prime musical venture wouldn't have been so bad. Seriously, these outfits can't be taken lightly, and the coordinated makeup was also something noteworthy.
Obviously, these outfits took some planning, and the turnout was so dope. Glittery hair buns and cute crop tops only contributed to a fraction of the magic. If fashion could talk, Coachella would literally be its second language. You may not have been able to attend the first weekend, but if you're able to draw some inspo from any of these trendy AF outfits from the festival, it's almost like you were there, too.