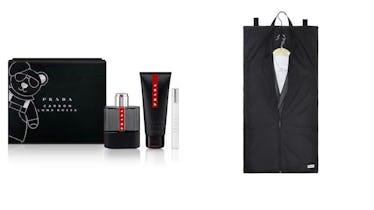 The 9 Best Gift Ideas For Dad This Christmas, Because He Deserves The World
Prada / Away
Finding the perfect Christmas present for Dad can be a real struggle. You are determined to find him the most epic gift ever, because he's the best dad in the world and deserves something truly special. But every year, it gets even more difficult to find things that he can actually use and doesn't already have. (Is it just me, or do dads really seem to have literally everything? You can go to your dad for just about anything, from a wrench to the coolest coffee table book around.) To help you out a little bit, here are what I think are the best Christmas gifts for dad for 2018.
These gifts will fit every budget, and will undoubtedly put a smile on Dad's face. I mean, who can say no to funny socks, cozy sweatpants, or a beer of the month subscription? You might even introduce him to something new, like a great cologne he hasn't tried, and he'll really appreciate the thoughtfulness behind your gift.
Shopping for dad can be tricky — my dad is very picky when it comes to his gifts, so I totally understand — but if you go with some of the things on this list, you'll certainly be sleighing it in the gift department this year.
Your dad will appreciate these socks on game day.
Get your dad in the comfy-cozy holiday mood with a pair of fuzzy slippers.
A beer of the month subscription is perfect for a craft beer aficionado like your dad.
What better way to commemorate a new beer of the month subscription than with a customized bottle opener?
A water-resistant garment bag is a must for dads who travel for work.
A good pair of sweatpants is never a bad idea.
Give dad's reading glasses a modern update with these frames from Warby Parker.
This fragrance gift set is a total win.
Warm up your dad's office with this candle from Oribe.