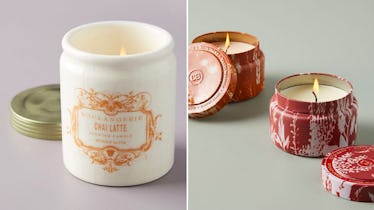 These Anthropologie Candles Will Make Your Place Smell Like Fall & I Want Them All
There's something about fall that makes you want to light every candle you own and fill your apartment with the welcoming aroma of pumpkin spice and everything nice. I can't wait to stock up on candles for cozy nights at home, watching a movie, and cuddling up with a fuzzy blanket by the fire. If you're looking to add to your cart as well, you'll want to check out the best Anthropologie candles for fall 2019.
Whenever I'm strolling through the mall, I have to go into Anthropologie to smell every single candle. They not only smell fantastic, but they look gorgeous too. Purchasing a candle honestly makes me feel like I'm adulting hardcore when I add it to my apartment decor. It has a sophisticated feel to it, while also making the whole room smell like someone's baking pumpkin muffins or sweet apple crisp.
With a new season upon us, it's the perfect time to switch things up. It's out with the summer and in with the fall touches. Add a few of these eight candles to your home to create a glowing fall aesthetic. It may even inspire you to invite your friends over to watch a movie like Hocus Pocus while drinking Pumpkin Spice Lattes.