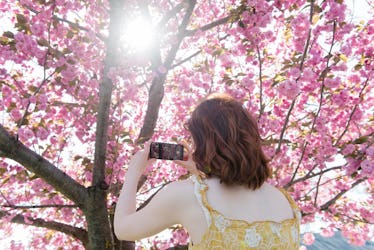 Experts Say The Benefits Of A Social Media Break Are Worth Putting Your Phone Down For
I'll be honest: I love social media about 99 percent of the time. I think it's such a great way to express yourself creatively, and many social media platforms have helped to create safe communities for marginalized people who might not feel supported in real life. Plus, with photo apps like Instagram, you have access to just about as many puppy photos as you could possibly want. That being said, the benefits of taking a social media break every once in a while are significant enough to make even a die-hard IG fan like me put away my phone for a few days.
Celebs do this all the time — Ariana Grande recently took a quick break from Instagram, and Selena Gomez is also stepping back from social media as of this Monday — and TBH, they might really be on to something. But how long does a social media break need to be in order for you to reap the benefits? According to Dr. Kevin Gilliland, a licensed clinical psychologist and executive director of Innovation360, it really depends on the person. "[It] will be half a day for some and the weekend for others," he tells Elite Daily. "We need to take a break long enough to realize that most of our cravings for things only actually last a matter of minutes."
But don't let the time commitment scare you if you need to work up to a longer break. "Any break, even if it's just an hour, can be helpful," explains licensed mental health counselor Rachel Gersten. While she says a full 24 hours away from social media is ideal, pulling yourself away for even short spurts at a time can have its benefits, too.
To get a better sense of how much you use different apps, I recommend checking out a new feature in the iOS 12.0 update: The new Screen Time report under Settings breaks down exactly how many minutes you spend per day on each app, and even the number of times you pick up your phone. And, let me tell you, I've been pretty shocked so far by my own results.
If you do decide to take a social media break, here are some benefits you might notice along the way.