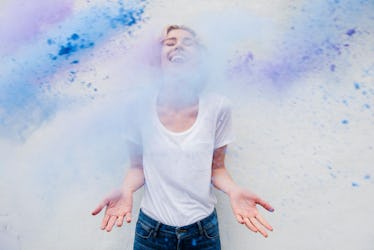 Your Creativity Can Benefit Your Mental Health In These 3 Major Ways, So Keep Doing You
A few weeks ago, I found myself wandering through my neighborhood craft store, trying to find the cheapest oil paints available. I have no art training at all, but a string of stressful weeks left me craving an outlet to express myself, and so, I decided to try my hand at painting. Let me be clear: I'm terrible. But, IMO, that's not really the point, because my time to myself with art supplies and a good podcast are invaluable. The mental health benefits of creativity are nearly endless, according to a host of scientific research, and given my own experience, I'm not at all surprised.
But what is pretty surprising is the breadth of the benefits that creativity can provide for your well-being. And, look, if you're a little intimidated by the idea of picking up a new hobby, or more specifically, a new form of art, I totally feel you. But, even if you don't consider yourself a stereotypically "artsy" person, there are tons of ways to be creative beside painting or drawing. Try your hand at following an elaborate makeup tutorial on YouTube, or offer to style your BFF for an Insta-worthy photoshoot. Maybe even start your own podcast.
Whatever you try to incorporate into your life, give it your full attention, and then see how you begin to feel — because you just might notice these three awesome boosts in your well-being.