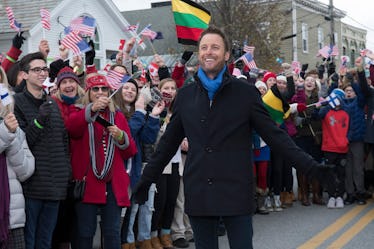 The 'Bachelor Winter Games' Anthem Has Bachelor Nation Totally Freaking Out
ABC
Are you ready, Bachelor nation? Grab your ski pants and Chris Harrison pride because we're heading to Vermont for the first ever Bachelor Winter Games. I AM SO READY. The show has already declared that it's mixing "humor" with love, according to the info page on ABC. As we could've predicted, the show has totally delivered on the humor aspect. The Bachelor Winter Games anthem is everything we didn't know we needed.
It wouldn't be the Winter Games without a proper opening. Chris Harrison handed off the stage to singer Fionnuala Cree and she belted out the song of a lifetime. The lyrics to the anthem read,
Bachelor Winter Games. To fight for love and more. Oh Bachelor, sweet Bachelor, we will compete for sure in the time that we share. Let's go beyond compare. Oh Bachelor, sweet Bachelor, we want to see this through. The reason's right, the future's bright to win your hand and heart. Oh Bachelor, sweet Bachelor, we want to see this through.
Wow, really powerful stuff. Cree definitely brought it home when she sang, "we want to see this through," which is basically the tone of the show. The entire season is going to last just four, two-hour episodes. We only have eight hours to devote to Winter Games, so let's make this count, fam.
No one knows how to get fans excited like The Bachelor franchise. Fans were pumped after the anthem.
However, some people on Twitter did find the anthem cringe-worthy. Different strokes for different folks, I suppose.
There are 12 of our favorite Bachelor and Bachelorette alum from the United States competing for love this season, but also some fresh faces from around the world. Everyone is living under one roof, and I'm legit so excited to see how relationships form. When giving fans a sneak preview into what is expected on the show, ABC said,
Throughout the run of The Bachelor Winter Games, fans can expect twists and turns on and off the ski mountain, as well as romance, heartbreak, love and, of course, roses. The bachelors and bachelorettes will participate in challenges from winter biathlon to ice dancing, with date cards being given to the winners of each challenge.
Fan favorite and promising Winter Games contestant, Eric Bigger, had other motives for joining the show. During an exclusive interview with Elite Daily, the personal trainer admitted that he wanted to make more connections within The Bachelor franchise. Totally fair. He said,
I think the Winter Games was just another opportunity not only to find love, but make connections within the Bachelor family. And I've never been to Vermont. Then there's the challenge as far as winter sports — I grew up in Baltimore, where we only have winter sports available! So it was just an opportunity for me not only to grow but be in a different vibration and learn more about myself when it comes to love, challenges, and just life in general. So that was the whole purpose of going, and then producers of the show reached out towards the end of the year and I didn't think I would be going, but I was open to it and I went for it...I'd just done The Bachelorette prior to that...and emotionally it was a long year.
As far as falling in love — we'll have to wait and see, but Bigger explained that a lot of relationships were formed when the contestants were just kicking it in the house. He said,
I just think that the couples formed just based on the spur of the moment. You could wake up one morning and you're in the kitchen and somebody from an international side or the American side, they're cooking eggs together!...I think the environment itself is just a thing that we're allowed to do outside of just dates and events, you know, it's just freefall. So I think the house helped a lot of relationships form.
I'm seriously so ready for something new from The Bachelor world. Let's go for gold, people.
Check out the entire Gen Why series and other videos on Facebook and the Bustle app across Apple TV, Roku, and Amazon Fire TV.