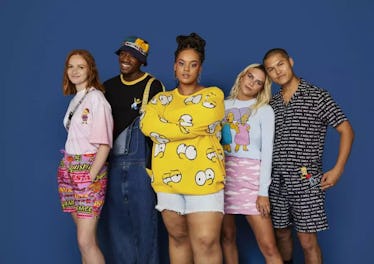 ASOS Just Dropped A Super Nostalgic 'Simpson's Line That'll Take You Right To Springfield
ASOS x 'The Simpsons'
If you've been watching Marge, Homer, Bart, Lisa, and all of the other eclectically excellent residents of Springfield for your whole life, get ready for the clothing drop of your dreams. The ASOS x The Simpsons line boasts an array of inclusive items that bring your favorite cartoon personalities to life, meaning it can be 'toon time 24/7.
As the longest-running primetime scripted show in TV history, The Simpsons has defined American television culture in ways that no other program has. I've been watching it with my dad since I was 13 and can say that it's one of the most interesting and comical forms of social and political commentary there is. Beyond that, it's just plain entertaining and love-able. It makes sense ASOS would create an entire line in its honor.
According to a press release, the styles within the collection were "inspired by '90s party culture streetwear styles." From co-ords and swimwear to shirts and accessories, the range of items is vast and includes menswear, womenswear, unisex, and plus-size options. Items within the collection range from $10 - $70, so they won't break the bank, either. Shop it before styles sell out and leave the "D'oh"s for Homer.
Below, find 10 of the best pieces from the lineup.
Cloud 9
Simpsons fan or not, this pastel pink cloud tee is what dreamy summer dressing is made of. But really, I want to sleep in this every night.
Sock It To 'Em
Although only one sock style is pictured here, this product is actually a two-pack. One sock style features Homer's face while the other features Bart. Like father, like son.
Graphic Design
This t-shirt dress definitely gives me major '90s vibes! Featuring contrasting sleeves, a yellow color, and a positively eye-popping (and wordy!) design, it's anything but subtle. All of the Simpsons' favorite haunts, including Kwik-E-Mart, hold court on the garment.
Totes
Bart's side eye is iconic. It's also my #mood every morning from 7 a.m. to 11 a.m. Wear this and no one will give you any trouble.
Stay Reppin'
Run by Apu Nahasapeemapetilon, the Kwik-E-Mart is one of Homer's favorite stops on the show. Show it some love by repping its logo tee.
Sky High
A matching skirt for the cotton candy cloud tee? Yes, please! Wear them together for a super soft look, or pair the skirt with a white top and white sneaks like above for something really fresh.
Follow Suit
Lisa is the definition of a smart, strong, intelligent, and independent woman, so why wouldn't you want to wear a swimsuit emblazoned with her face?
Fluff Piece
Not a skirt girl? No problem. The cloud print comes in pant form, too — this time in a powdery blue shade. It's like jeans, but dreamier. I'd pair them with a white graphic tee and white booties.
Homer Run
Skater girls, get ready to roll with Homer in style. Hop on this skateboard, and you're guaranteed a wild ride.