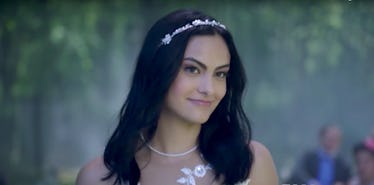 That Archie & Veronica 'Riverdale' Wedding Scene Isn't What You Thought
CW
Sooo, do you guys remember how Riverdale released that teaser showing Veronica in a wedding dress last month, and ever since then we have all been freaking out over the Varchie wedding scene coming our way in Season 2? Well, surprisingly, it already happened in the premiere episode... kind of. Viewers did get to see the Veronica and Archie wedding of their Riverdale dreams when the series returned for its Season 2 premiere on Wednesday night, but it wasn't exactly in the context that most of us were hoping for.
Spoiler alert: If you haven't seen the Season 2 premiere of Riverdale yet, you're going to get spoiled if you read on. If anyone was worried about Veronica and Archie's relationship fizzling out between the first and second seasons of Riverdale, Wednesday night's premiere must have been completely reassuring. The young lovers are still going at it very hot and heavy, even though Archie does spend most of the premiere worrying about his dad's chance of surviving the gunshot he sustained during last season's finale. Still, even when thinking about his dad's possible fate, it's clear that Archie can't stop keep his mind off of Veronica.
When ruminating on his dad's possible death, we see Archie imagining all the happy events in his life that his dad may no longer be around for... events involving Veronica. He imagines proposing to Veronica and showing off their engagement rings to his dad at Pop's Diner, and then we get the scene that was making fans go crazy when teasers dropped about a month ago: Archie and Veronica's wedding.
Unfortunately (or maybe fortunately depending on who you ship), Archie and Veronica's dream wedding turned out to be just that; a fantasy only existing in Archie's mind while he contemplates the moments his father might miss if he dies now. Despite the wedding only being a fantasy, it was still a cool moment for fans to see Veronica looking stunning in a wedding gown and Archie rocking a kilt along with his suit jacket. I guess the Andrews family is really into their Scottish heritage, huh?
And the dream wedding might also call another important thing about Veronica and Archie's relationship into question: Is he thinking about getting married in high school? Of course, Archie was mostly just imagining his wedding in terms of what his father might miss if he dies, but it still seemed pretty telling that the show didn't put in any efforts to age up Archie or Veronica (either with older makeup, altered hairstyles, or heck, even similar looking but older actors) in Archie's fantasy wedding. It really just looked like Archie and Veronica were getting married right at this time now, while they're still in high school. Maybe a real wedding between the two isn't so far off after all.
As a reminder, Archie and Veronica entered into a relationship close to the end of Season 1, when the two hooked up at the height of the group's investigation into who killed Jason Blossom. Archie had already had his run of girlfriend's up to this point, including music teacher Miss Grundy, Josie and the Pussycats member Valerie, and even a confusing maybe-fling with Cheryl Blossom. There was also initially some competition between Betty Cooper and Veronica, since Betty had a crush on Archie for years but it seemed as though Veronica was getting Archie's attention after just arriving in town. However, the two women quickly squashed that potential beef and actually became incredibly supportive friends. Now, Betty is dating Jughead and Veronica is with Archie.
So, that wedding scene may have been a fake-out, but after that premiere, it's clear Varchie is still stronger than ever. Maybe real wedding bells really aren't too far off.