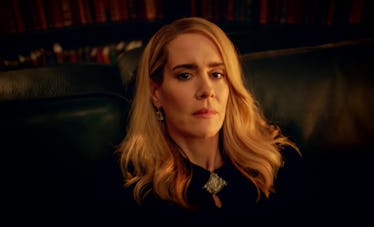 The 'AHS: Apocalypse' Episode 7 Trailer Reveals The Return Of An Iconic 'Coven' Character
FX
Just when American Horror Story fans thought we had seen everyone from Coven and Murder House that we were going to see returning in Apocalypse, the teaser for next week's episode brought back yet another major character from AHS past. Papa Legba will make his grand return next week, the AHS: Apocalypse episode 7 trailer reveals, and he is sure to majorly shake things up for the coven once again.
Spoiler alert: This post will contain details from the first six episodes of American Horror Story: Apocalypse. After we took a trip back to the Murder House this week, the Episode 7 trailer shows that it will be all about the coven in the new episode. The teaser for the upcoming episode, which is ominously entitled "Traitor," seems to be set almost entirely at Miss Robichaux's Academy, as an all-out battle for power breaks out between the witches and warlocks. We see Joan Collins for the first time since her character of Evie Gallant was killed in Episode 2, but rather than bringing back Evie, it appears that Collins is playing a witch in the coven that we have not yet met. Collins' character warns the witches that the warlocks will try to kill them, and we quickly see one of the warlocks blowing a deadly powder on Myrtle Snow.
But the biggest part of the episode teaser is definitely the return of Papa Legba. Cordelia Goode will seek out the help of Dinah Stevens to summon Papa Legba, it appears, although we are left guessing as to why the coven would need to call upon the gatekeeper of the spirit world. Check out the new trailer for yourself below:
Papa Legba was a major part of American Horror Story: Coven. As the gatekeeper of the spirit world, Papa Legba is one of the most fearsome and powerful magical beings. His main purpose is to collect and guide the souls of the dead to the spirit world, but as we saw with Marie Laveau, he can also grant immortality to those willing to sacrifice to him.
With Papa Legba's return, it seems likely that Cordelia is attempting to bring a soul back from the dead, which has a number of fans guessing that we might finally see Nan again. Apocalypse has brought back to life all of the witches who died in Coven except for Nan, who has strangely not even been mentioned. Since we last saw Nan's spirit walking off hand in hand with Papa Legba, Cordelia may be calling upon him in order to ask for Nan's spirit back, finally resurrecting all of her girls.
The other big question going into Episode 7 has to do with the episode's title. Since it is called "Traitor," everyone is obviously curious about who that could be referring to: will one of the warlocks turn on his own once he realizes Michael Langdon should not become the Supreme, or will one of the witches unexpectedly join team antichrist?
Episode 7 of American Horror Story: Apocalypse will air on Wednesday, Oct. 24 at 10 p.m. ET on FX.