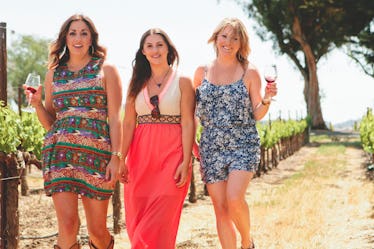 6 Most Insta-Worthy Vineyards To Celebrate Your Friendiversary, Because Wine Not?
When was the last time you spent quality time with your best friend? Sometimes, life can get incredibly busy, but it's always important to make time for the people who you love most. After all, life is all about cherishing your relationships. And if you and your bestie are a couple of passionate winos, you know two glasses of rosé are always invited to your bonding sessions. Therefore, you should consider visiting a vineyard with your bestie, in the name of friendship. You'll be able to sip your favorite wines while making new memories together amongst the vines. These are the most beautiful vineyards in the U.S. to celebrate your friendiversary with your BFF, because wine not?
Whether you're watching a romantic comedy or spending a night out on the town, a refreshing glass of wine completes the perfect scenario. Vineyards are a great way to indulge in your love for the vine and discover new favorite flavors. Most vineyards allow you to tour the properties, savor wine, chocolate, and cheese tastings, (YUM!) and even make your own custom wines. Let's just say, the wine tasting experience is just the beginning of visiting a vineyard. Cheers to a good time with your favorite girl, and many Insta-worthy pics.