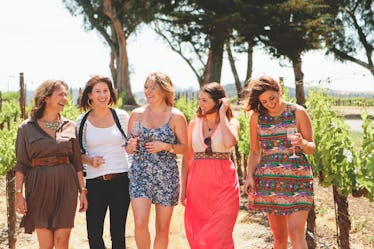 Sip & Cheers To These Cali Wineries That Are Perfect For Your BFF's Bachelorette
Ever since you and your bestie hit that 21-year-old milestone, wine has frequented your inner circle. Any girls' night or exciting accomplishment has been the green light to pop a bottle and celebrate. Now, your girl is getting married — and "celebrate" hardly describes the hoorays you want to shower her in. Hitting up a winery with your bestie and the bride tribe is so ideal, because you can sip back, relax, and have fun with your main girl. If you're on the West Coast, you may want to know the best wineries to visit in California, because wine and sunshine plus your bestie is the best package deal ever.
Whether you're a loyal rosé drinker or experiment with reds, hosting a bachelorette party at a winery will give every lady an equally fun experience. Besides, your girl is going to be walking around in the cutest outfit topped with a mock veil. If that doesn't automatically summon good times, then life is once again a huge mystery.
Since there isn't one way to be a passionate wino, you'll have to choose one place with several appealing qualities for this important part of your bestie's life. With each sip, she'll be inching closer and closer to being a wifey. Make each yummy glass count, and hook her up with the bubbles at any of these Cali wineries.