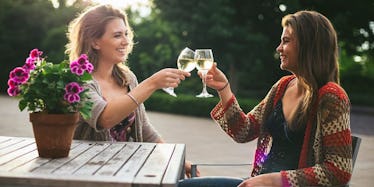 5 Best Wineries To Hit With Your Main Girl Squad This Fall
As the leaves begin to shed their vibrant green hue and embrace their inner crimson, we excitedly welcome autumn (and Pumpkin Spice Lattes) into our hearts. Sure, summer was a spectacularly lit run, but all of us basic queens out there are totally ready for some much-needed sweater weather. Flannels and beanie caps, here we come. And let's be honest, we all know the upcoming season would not be complete without making a bucket list of the best wineries to visit in the fall with our girls. Because, what's fall without a glass of wine in hand to celebrate the changing of the season?
You really can't go wrong planning a day trip or weekend getaway to a vineyard with your girlfriends. Pack up a delicious picnic lunch, get ready for many adorable Instagram pictures, and embrace the stunning scenery that encompasses you. You'll be getting your booze on all day long with your best ladies by your side. What's better bonding time than that? This is certainly a staple activity for every squad who simply cannot get enough relaxing wine time in their lives. To make your bucket list planning a tad easier, here are the best wineries to get your boozy fall fill with your friends.
1. Early Mountain Vineyard in Madison, VA
Planning your next #VAWine trip? Come visit us at Early Mountain! Thanks for the gracious coverage @ArlingtonMag. https://t.co/mKONDB8uXh pic.twitter.com/Qme79H4Leb — Early Mountain Wine (@EarlyMountain) May 15, 2017
Between the live music events, the annual Fall Oyster Festival, and the Uncorked Trail 5K through the vineyards, there's always something fun going on at Early Mountain. The winery highlights delicious seasonal produce from farms in the area, homemade charcuterie, and artisanal cheeses… so bring your appetite. If you're looking to stay at the vineyard for a long weekend retreat with the girls, their cozy guest cottage is the ultimate spot to take in all the fall beauty, with a glass of fine wine in hand, of course.
2. Wölffer Estate Vineyard in Sagaponack, NY
#Wolffer is the Very Important Vineyard tonight at @localandvine282 so come in + enjoy specials on featured Wines & No. 139 Ciders! pic.twitter.com/NiOvDlpv9U — Wölffer Estate (@WolfferWine) February 16, 2017
First of all, not only is their rosé downright spectacular, but Wölffer Estate has the most stylin' floral wine bottles in all of the land. A trip to this beautiful winery is essential to any summer weekend getaway in The Hamptons, but it also makes for such a picturesque trip in September. The Wölffer Estate Wine Stand is a solid place to be on Friday and Saturday evenings to sip your favorite Wölffer ciders and wines, while enjoying the exquisite views with your squad by your side.
3. Bedell Cellars in Cutchogue, NY
Thanks for sharing! RT @northforker1: @BedellCellars ranked among America's 'most beautiful wineries' — pic.twitter.com/8RNr7AbrBn — Bedell Cellars (@BedellCellars) June 27, 2017
It's clear as to why Bedell Cellars is a go-to venue for weddings and events. The backdrop of vibrant gardens, vineyards, and the mahogany pavilion is undeniably stunning. Be sure to reserve a tasting appointment prior to your visit to make the most of your stay, and relax in the charming loft area, which highlights a cozy fireplace and windows looking straight into the barrel aging cellar.
4. Seavey Vineyard in St Helena, CA
A gorgeous November day here at the winery! pic.twitter.com/O6IPFD3eJG — Seavey Vineyard (@seaveyvineyard) November 19, 2015
Located on the hillsides of Napa Valley, Seavey Vineyard is truly a must-see destination. The estate stays true to traditions to celebrate the "Old Napa Valley," and makes for a marvelous picture backdrop for a vintage tour and tasting. Grab your gal pals and head on over to this beautiful family-run winery for the ultimate fall getaway.
5. Gouveia Vineyards in Wallingford, CT
https://t.co/QqkeEO4G2W A beautiful video of Connecticut foliage and the amazing views here at the vineyard! https://t.co/FrKCQRPfig — Gouveia Vineyards (@GouveiaVineyard) October 16, 2016
Between enjoying some wine and cheese while gazing at the stunning foliage, to cozying on up by the fire pits later on in the day, Gouveia Vineyards is seriously where it's at. Start your day off with the estate's wine tasting and tour the cellars, then pick out your favorite bottles to take down to the picnic tables. Pack some fun games, and watch the sun set over the grape vines.