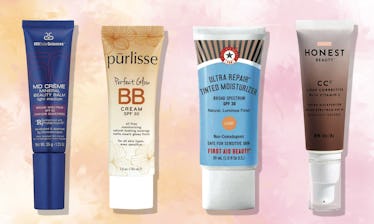 These Tinted Moisturizers With SPF Are The Perfect Combo Of Skincare & Makeup
Elite Daily / Amazon
For those days when you just can't be bothered to apply a bunch of different products, the best tinted moisturizers with SPF are the way to go. They are the perfect combination of makeup and skincare, providing you lightweight coverage with some added perks for your skin.
Selecting A Tinted Moisturizer
Moisturizer is an essential step in any skin care routine, since it helps to keep your skin hydrated. But a tinted moisturizer goes a step beyond just hydration, providing a subtle amount of pigmented coverage (albeit, not as much coverage as a traditional foundation) to smooth out your skin tone for that perfect no-makeup look. In addition, many tinted moisturizers contain ingredients that can be beneficial for specific skin types. Dr. Lauren Eckert Ploch, MD, MEd, FAAD, told Bustle in an interview that hyaluronic acid is one ingredient to be on the lookout for, especially if you have dry skin. Hyaluronic acid helps to hydrate your skin and give it a glow. And if you have very dry skin, she recommends looking for a moisturizer that contains ceramides, which can help your skin for losing moisture. If you have oily skin, look for oil-free formulations that will hydrate without leaving your complexion greasy.
Beyond standard tinted moisturizers, you'll also find BB and CC creams. Both are essentially tinted moisturizers, but BB creams tend to provide a bit thicker coverage than a standard tinted moisturizer (but still less than foundation), while lighter-weight CC creams even out any redness or dark spots on your skin.
What About SPF?
SPF is super important when it comes to protecting your skin from sun damage such as sunburn and skin cancer. Both Dr. Ploch and Dr. Skylar Souyoul, MD recommend reaching for tinted moisturizers that contain at least SPF 30. Make sure the product also provides broad spectrum protection, meaning it protects against the sun's UVA and UVB rays. If you have sensitive skin, Dr. Souyoul recommends looking for a product with zinc oxide and/or titanium dioxide.
A tinted moisturizer with SPF is a good way to start with sun protection, but Dr. Souyoul still recommends using sunscreen, too. "If you are using a sunscreen in a moisturizer or make-up you might not be applying enough of the product or you might be avoiding areas like around the eyes or neck," she explained.
With all this in mind, I've tracked down these amazing tinted moisturizers with SPF. Not only are these products adored by Amazon reviewers for their ability to hydrate and moisturize the skin, they're also beloved for providing lightweight coverage that makes skin appear smooth, even, and healthy.
This article was originally published on