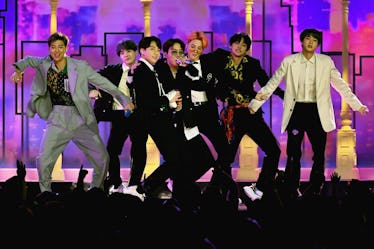 Here Are The Cutest BTS Moments From The Last Day Of Muster
Ethan Miller/Getty Images Entertainment/Getty Images
If you were among the many people around the world watching BTS' last day of Muster on Sunday, June 23, you know it was a bittersweet moment. It was sweet because it's always such a treat to watch BTS perform (duh), but it was a little sad because it means the fifth Muster is officially over. Here are the six best moments from BTS' last day of Muster, because there's no shame in spending your day reliving the highlights of a BTS performance.
If you're a BTS newbie and haven't heard of a Muster before, allow me to explain. A BTS Muster is an annual concert put on by the K-Pop group where some fans can meet RM, Jin, Suga, J-Hope, Jimin, V, and Jungkook and enjoy a special performance specifically curated for them. Musters include new music and old faves alike, so concert-goers have the chance to enjoy music and performances from BTS' entire discography. The name "Muster" is actually pretty clever — the word muster means "a formal gathering of troops," and since BTS fans call themselves the BTS ARMY, it technically is a formal gathering of the troops when they all meet up in one spot.
BTS' fifth annual Muster took place over two weekends. Part one was on June 15 and 16 in Busan, South Korea at the Busan Asiad Auxiliary Stadium. Part two took place on June 22 and 23 in Seoul, South Korea at the Olympic Gymnastics Arena. Here are six highlights from the last day of BTS' Muster.