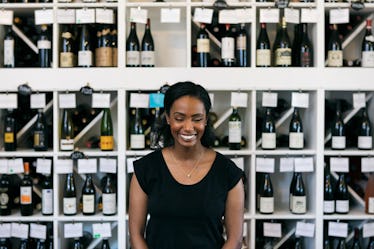 The 4 Best Things To Do Alone Over The Holidays If You Love Wine, Because Wine Not?
Cheers to the holidays! It's the ultimate season to relax and recharge. Work has without a doubt been busy, and you finally have some time off to treat yourself. (You deserve it!) You can catch up on your favorite show, get your holiday shopping crossed off the list, cook a yummy Pinterest recipe from scratch, finish that DIY project you've been putting off, or simply unwind with a glass of cabernet. The possibilities are endless, but to give you a head start, I put together a list of the best things to do by yourself if you love wine (for those who are 21 or over).
When it comes to wine, the question is: red or white? Wine is a simple pleasure that pairs well with a home-cooked meal with bae, savory cheese board on girls' night, or a good book in the bubble bath. Many people believe that wine is fitting for events with family and friends, but you can also enjoy it solo. Whether you want to sip wine in the comforts of your home or visit your favorite wine bar solo, you're bound to have a good time. Take yourself on a date this holiday season and try some of these wine activities alone.