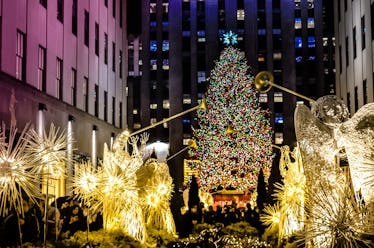 20 Insta Captions For Christmas In NYC, Because It's Pure Magic
While there's no place like home, there's also no place like Christmastime in New York City. There's something so magical about being in The City That Never Sleeps during the most wonderful time of the year. From the grand Christmas tree in Rockefeller Center, to the lavishly festive store windows on Fifth Avenue, there's so much to see. If you're planning a trip to The Big Apple this December, you'll want to pack some captions for Christmas in NYC along with your sweaters and scarves.
When I lived in the city, the one way to get me in the holiday spirit was to walk around and look at the decorations. First off, I always stopped by the holiday market in Bryant Park to shop for my family. Next, I made a trip to Rockefeller Center to swoon over the tree and skating rink. After grabbing a hot chocolate, I kept going up Fifth Avenue, past the shops, towards Central Park. On my way, I always made sure to stop by the Plaza Hotel like I was Kevin McCallister in Home Alone 2.
To finish off my Christmas journey, I would walk around the snowy Central Park like I was Buddy the Elf. And that's just one way of a million to experience Christmas in NYC. If you're looking to find your very own holiday spirit in the city, you'll want to keep around these 20 captions for any pictures you take along the way.
1. "These wonderful things are the things we remember all through our lives." — Johnny Mathis, "Sleigh Ride"
2. "I believe... I believe... It's silly, but I believe." — Miracle on 34th Street
3. "The best way to spread Christmas Cheer, is singing loud for all to hear." — Elf
4. "I absolutely love Christmas!" — Eloise At Christmastime
5. "Merry Christmas, you filthy animal." — Home Alone 2: Lost in New York
6. "You can mess with a lot of things, but you can't mess with kids on Christmas." — Home Alone 2: Lost in New York
7. "I look out the window and I see the lights and the skyline and the people on the street rushing around looking for action, love, and the world's greatest chocolate chip cookie, and my heart does a little dance." — Nora Ephron, Heartburn
8. "New York is always a good idea."
9. "Quite simply, I was in love with New York. I do not mean 'love' in any colloquial way. I mean that I was in love with the city, the way you love the first person who ever touches you and you never love anyone quite that way again." — Joan Didion, Slouching Towards Bethlehem
10. "I passed through the seven levels of the Candy Cane forest, through the sea of swirly twirly gum drops, and then I walked through the Lincoln Tunnel." — Elf
11. "Oh, Christmas isn't just a day, it's a frame of mind." — Miracle on 34th Street
12. "Who wants to spend Christmas in a tropical climate, anyway?" — Home Alone 2: Lost in New York
13. "There is no more beautiful place to be at Christmas than New York City." — Mike Roth
14. "Being in New York is like falling in love. Over and over again, every minute." — Rachel Berry, Glee
15. "It couldn't have happened anywhere but in little old New York." — O. Henry
16. "Christmas in New York is a one-of-a-kind experience."
17. "Better to see something once than to hear about it a thousand times." — Asian Proverb
18. "Christmas waves a magic wand over this world, and behold, everything is softer and more beautiful." — Norman Vincent Peale
19. "Christmas lights all around town."
20. "Christmas has arrived in the city."