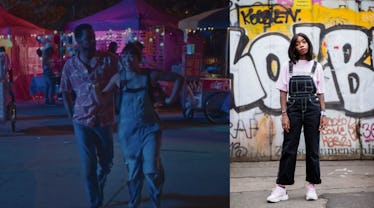 Em Rata & Gina Rodriguez Just Made Overalls Cool AF Again, So Here Are 20 Pairs To Shop
Don't @ me, '90s, but the 2019 overalls trend is poised to outdo yours. Yes, you read that right, the classic denim bib is back and it's legitimately better than ever. Thanks to its championing by celebrities with the likes of Emily Ratajkowski, J. Lo, and Margot Robbie while out and about, as well as by Gina Rodriguez in her role as Jenny Young in Netflix's new hit movie, Someone Great, the one-piece is experiencing a sartorial renaissance of sorts and tbh, I want in on it stat.
Much like in the '90s, baggier styles with a boxier silhouette are feeling especially cool. Robbie and Ratajkowski both favor the relaxed silhouette and have styled it with a casual bra top underneath, which is also how Rodriguez's character rocks it in the film. This combination makes for the perfect summer look that will be breezy enough to brave the heat in, and it makes overalls feel slightly less dated. Ratajkowski opted for a red pair, Robbie's were striped, and Rodriguez's were classic blue. No matter what color you're into or whether you prefer overall shorts over the classic long-legged version, there's something on the market that'll strike your fancy. Check out 20 of the best options below and get ready to let your inner '90s babe shine.