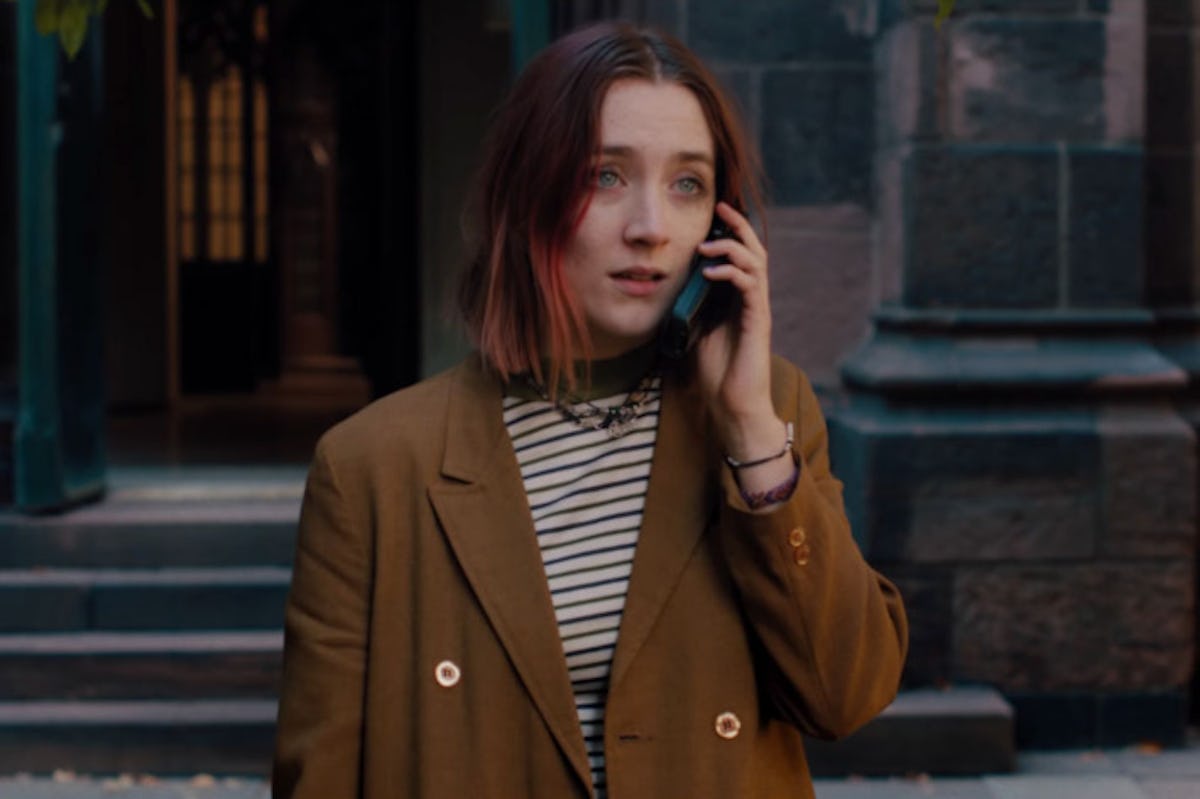 Which Oscar-Nominated Movie You'll Obsess Over Based On Your Relationship Status
A24
It's undeniable that 2017 was an incredible year for movies — it's almost overwhelming to see them all. Every week, there was a new movie I needed to watch. Luckily, MoviePass made it much easier to see all the buzz-worthy films: I saw Call Me By Your Name twice, and attended The Greatest Showman on opening day (don't question my devotion to Zac Efron). And even though I haven't gotten around to seeing all of the 2018 Oscar-nominated movies, I'm making my way down the list.
Depending on your romantic life at the moment, you may be in the mood to see a specific kind of movie. This year's Oscar movies are varied enough in content that you can tailor a movie to any given mood or mindset. In the mood for inter-species love (...)? You have The Shape of Water. Want a coming-of-age quirky drama? Check out Lady Bird. For your viewing enjoyment, I've curated a list of this year's Oscar movies to see based on your love life.
If you're experiencing your first love: Call Me By Your Name
Nominated for Best Picture, Lead Actor, Adapted Screenplay, Original Song.
Call Me By Your Name, based on the novel by André Aciman, is a peek into what it's like to fall in love for the first time. Set in beautiful northern Italy, graduate student Oliver (Armie Hammer) spends the summer with 17-year-old Elio (Timothée Chalamet) and his family, learning under Elio's professor father. The movie shows the confusion and excitement of a first love, and earns mega bonus points for depicting an underrepresented story onscreen – the two young men are queer and Jewish – in a relatable way for any viewer.
If you're caught in a tumultuous relationship: Dunkirk
Nominated for Best Picture, Director, Cinematography, Film Editing, Sound Editing, Sound Mixing, Production Design.
Dunkirk is two hours of nonstop stress: the movie depicts the Battle at Dunkirk in which World War II allied troops were attempting to leave Dunkirk, France while under attack from Germany. The ticking background music will make you on high alert for danger just around the corner, which is reminiscent of those high-tension relationships. You might find some comfort in seeing Harry Styles onscreen in his first-ever movie. (Or, stressed out by wanting to protect him – that's how I felt!)
If you're single and discovering your fab self: Lady Bird
Nominated for Best Picture, Lead Actress, Supporting Actress, Director, Original Screenplay.
Greta Gerwig's directorial debut chronicles the senior year of spunky teen Lady Bird (Saoirse Ronan). The high schooler navigates friendship, family, school, and romance. The most touching moments of the movie are seen between Lady Bird and her best friend, Julie (Beanie Feldstein), and a phone call between Lady Bird and her mom (Laurie Metcalf).
If you need to end your relationship immediately: Get Out
Nominated for Best Picture, Lead Actor, Director, Original Screenplay.
Some relationships are straight-up not meant to be. This is evident between Get Out's interracial couple Chris (Daniel Kaluuya) and Rose (Allison Williams). In the thriller, Rose takes Chris home to meet her parents, who say things like "I would've voted for Obama for a third time if I could." Without giving away spoilers, Get Out is a sharp critique of racial issues in the United States that leaves you on the edge of your seat the entire way through.
If you're in a happy, loving relationship: Beauty and the Beast
Nominated for Production Design, Costume Design.
This remake of the beloved 1991 Disney animated film is just as adventurous and filled with love as the first one. With a star-studded cast including Emma Watson, Dan Stevens, Luke Evans, Kevin Kline, Josh Gad, Ewan McGregor, Stanley Tucci, Audra McDonald, Gugu Mbatha-Raw, Ian McKellen, and Emma Thompson, this tale as old as time is a story any loved-up couple can enjoy watching together.
If you constantly feel like the third wheel: The Greatest Showman
Nominated for Original Song.
The Greatest Showman is about the beginning of the American circus and stars Hugh Jackman, Zac Efron, and Zendaya. It follows a generous portrayal of P.T. Barnum (who in real life enslaved Joice Heth, a black woman) who rounds up local outcasts to perform in his show. While the real-life version of events is much darker than how it appears onscreen, this light-hearted musical is a more touching tale of outsiders coming together to truly shine.
If you're a badass single babe: Molly's Game
Nominated for Adapted Screenplay.
Based on a true story, Molly Bloom's (Jessica Chastain) Olympics career in skiing comes to an end. Bloom then decides to take a break and live in Los Angeles before heading off to law school. While trying to make ends meet, Bloom becomes an assistant in L.A., and accidentally becomes entrenched with a secret celebrity poker game. She learns the ropes, then starts her own game.
If you make your way through this list before the 90th Academy Awards on March 4, be sure to check out other Oscar noms such as Darkest Hour, Phantom Thread, The Post, The Shape of Water, and Three Billboards Outside Ebbing, Missouri.
Check out the entire Gen Why series and other videos on Facebook and the Bustle app across Apple TV, Roku, and Amazon Fire TV.
Check out the "Best of Elite Daily" stream in the Bustle App for more stories just like this!