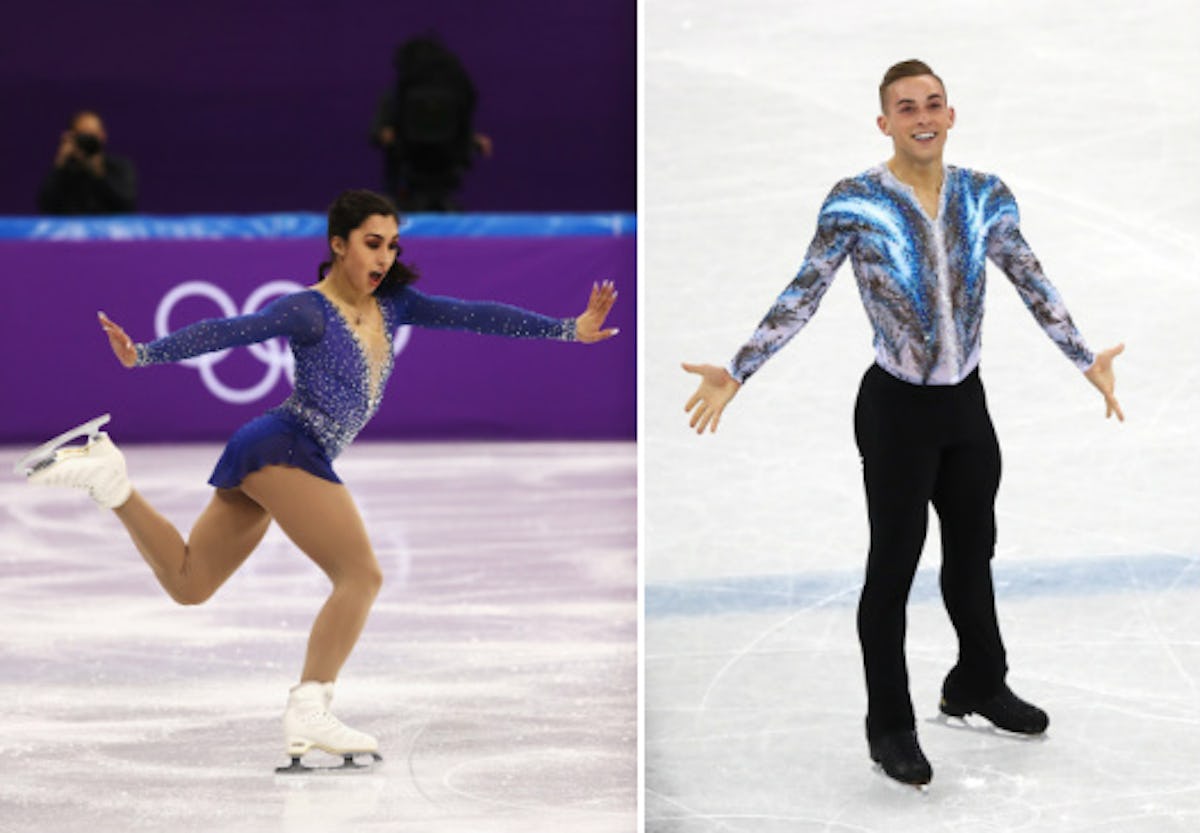 The Real Fashion Week Is Happening On The Olympic Ice & You Don't Want To Miss The Slay
Robert Cianflone/Getty Images Sport/Getty Images
To me, the Winter Olympics are the better of the two games. From luge to speed skating to halfpipe to Lindsey Vonn (yes, she gets her own shout out), the events and people they celebrate are thrillingly exceptional. But nothing, not even Shaun White, trumps the Olympic figure skating costumes.
The recent release of the movie I, Tonya, which depicts the drama surrounding Tonya Harding (Margot Robbie) when she competed in the 1994 Games, has created quite the buzz around the sport this year. Beyond that, it's also delightfully highlighted the fact that figure skating costumes haven't changed in 24 years, as many of the looks that have hit the ice in PyeongChang could have easily been worn by Harding, Michelle Kwan, Tara Lipinski, medalist Nancy Kerrigan or any of the other iconic '90s ice queens. Each time a skater hits the ice to perform and I get an eye full of their Swarovski encrusted leotard or shiny, silky shirt, I'm immediately transported back to my childhood, when I, a young figure skater, reveled in watching my idols perform on television.
For five years I trained as a figure skater, completely dazzled by the glamour and technique of it all. Yes, I loved the feeling of soaring across the ice, but as a sucker for all things sparkly, velveteen, and over the top, I loved the outfits even more. They almost always featured a sickening amount of gemstones and, for the most part, had little skirts that would ripple out from your body when you did a spin. Matching scrunchies were a must. I was obsessed. Harding and all of the other aforementioned legends were the ones setting the skating trends then, and evidently, they still are now. If you look at the dresses and shirts being worn in the 2018 Games, more than 50 percent of them could have been pulled from a 20-year-old skating memorabilia storage unit. I absolutely love it. If there is any sport that begs for sartorial excess it's figure skating, which boasts dance-like qualities and allows fabric to move and flow in visually stunning ways.
I rounded up some of the best 2018 Olympic figure skating outfits thus far, from the refreshingly minimalist to the fantastically flashy.
Alina Zagitova, Russia
Thanks to its tutu skirt, this costume definitely reads more ballerina than figure skater. But still, the bedazzling is on point.
Adam Rippon, USA
Rippon was one of the athletes to help Team USA win the bronze medal in the team event this week, but honestly, this shirt almost outshines his accomplishment. Its combination of airbrushing and crystals totally reminds me of early aughts style.
Satoko Miyahara, Japan
This dress has '90s figure skating style all over it. With it's sheer paneling, layered skirt, and smattering of crystals, it could have been worn by any of the ice icons.
Tessa Virtue and Scott Moir, Canada
Please see caption above. But seriously, the sheer paneling on both of their looks is on point! I will say that the silhouette of Virtue's look is definitely more modern but the embellishment? Textbook.
Choi Dabin, South Korea
This aquamarine look makes me think of an Icelandic mermaid, with its frosty hues and icicle-like gemstones.
Alex Shibutani and Maia Shibutani, USA
While the glittery material and tie dye coloration of these outfits is very '90s esque, the silhouette of Maia Shibutani's dress is unique in its romanticism. Moving across the ice, it flutters beautifully.
Mae Berenice Meite, France
Sometimes you need someone to disregard classic rules and go for something totally different. As much as I love traditional skirt-clad leos, this catsuit just might change my mind about pinnacle figure skating style. I love the embellishment added to the top of it and it's figure-hugging silhouette beautifully shows off the skater's strength and grace.
Anna Cappellini and Luca Lanotte, Italy
Thanks to it's brooch-like embellishments and deep V neckline, Cappellini's costume looks decidedly more modern than most. I love the way the layer of tulle under the skirt gives it a flirty flounce, and how Lanotte's all-black ensemble lets the pink dress shine.