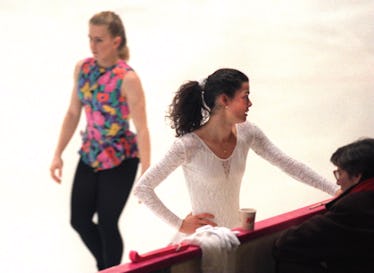 Nancy Kerrigan Finally Responded To 'I, Tonya' & It's Some Major Shade
Pascal Rondeau/Getty Images Sport/Getty Images
Nancy Kerrigan and Tonya Harding were synonymous with the sport of ice skating in 1994 — thanks both to their immense talent and one unprecedented attack. So why are they on everyone's minds again 24 years later? Well, thanks to I, Tonya, both women are back in the spotlight. In the wake of the new movie, Harding has done interviews and even attended the Golden Globes on Jan. 7. The woman on the receiving end of the attack that was meant to break her right leg, though, has not been as talkative. Nancy Kerrigan's response to I, Tonya is dismissive and definitely throws some major shade.
It's no surprise that people want to know how Kerrigan feels about the film. Without Kerrigan, the most controversial plot point of movie — the attack meant to break Kerrigan's leg — would likely not exist. Dan Shaughnessy, a reporter for The Boston Globe, decided to call up Kerrigan and ask the question that all inquiring minds want to know. He warned readers up front that Kerrigan has not seen the film. So, that pretty much shoots down any chance of talking about it, right?
Well, not so fast. Kerrigan shut down film-specific talk when she said, "I really have nothing to say about it. I haven't seen anything. I haven't watched anything." But her comment, "I'm just busy living my life," seemed to illustrate her true feelings on the matter — she does not care.
Nothing conveys a couldn't-care-less attitude better than dismissing the movie entirely due to a busy schedule. Her full response read:
I've been busy. I was at the national [figure skating] championships this week so I didn't watch the Golden Globes. I haven't seen the movie. I'm just busy living my life.
Seriously, Kerrigan just gave the "I don't know her" treatment to an entire film.
Kerrigan is clearly keeping busy with ice skating business, but her thought process seems to be framed around wondering why people think she should give it any time. Kerrigan told Shaughnessy:
At this point, it's so much easier and better to just be... it's not really part of my life. As you say, I was the victim. Like, that's my role in this whole thing. That's it.
Given that it was 24 years ago, it can be easy to forget the events surrounding that fateful day in early 1994 when Shane Stant (who was hired by Harding's ex-husband, Jeff Gillooly) allegedly took a metal baton to Kerrigan's right leg after her practice in an effort to remove her from the 1994 Winter Olympics. While her leg did not break, the bruising she suffered from the attack prevented her from performing in the U.S. Figure Skating Championships, and it created the risk that she might not get to compete in the 1994 Winter Olympics.
In the wake of the attack, Gillooly pleaded guilty to racketeering and was sentenced to two years in prison. Shawn Eckardt (Harding's bodyguard) pleaded guilty to racketeering and served 15 months in prison, and Stant pleaded guilty to conspiracy to commit assault and served 14 months in prison. Harding herself, who denied knowing about any plan to attack Kerrigan, was later banned from ice skating for life and stripped of her national title by the U.S. Figure Skating association in July of 1994, according to The Detroit Free Press.
Athletes at this level basically live their entire lives to compete in the Olympics, so I can only imagine the thoughts that ran through Kerrigan's head during and after the vicious attack.
While Kerrigan couldn't compete, Harding won the 1994 Figure Skating Championships and a place in the 1994 Winter Olympics in Lillehammer, Norway. As she continued to recover, Kerrigan was also named to the 1994 U.S. Olympic ice skating team. In an almost cinematic turn of events, Harding placed eighth and failed to medal, but Kerrigan managed to score the silver medal in Women's Singles for Figure Skating at the 1994 Winter Olympics.
So, it's not too surprising to hear that Kerrigan isn't shuffling around her schedule to fit in a viewing of I, Tonya — considering that it's centered heavily around what was likely one of the most traumatic events in her life.
She's not leaving her feelings a mystery, though. Her husband, Jerry Solomon, reached out to Shaughnessy to reaffirm their stance that, "Our position at this point is to say nothing." In this case, "saying nothing" sounds a lot like, "I'm a two-time Olympic medalist, and I don't really have time for this," or at least that would be my response if I were in Kerrigan's shoes, er, skates.
Kerrigan appears to be a touch classier than that, though. So I think she'll just keep on shading them with her silence.