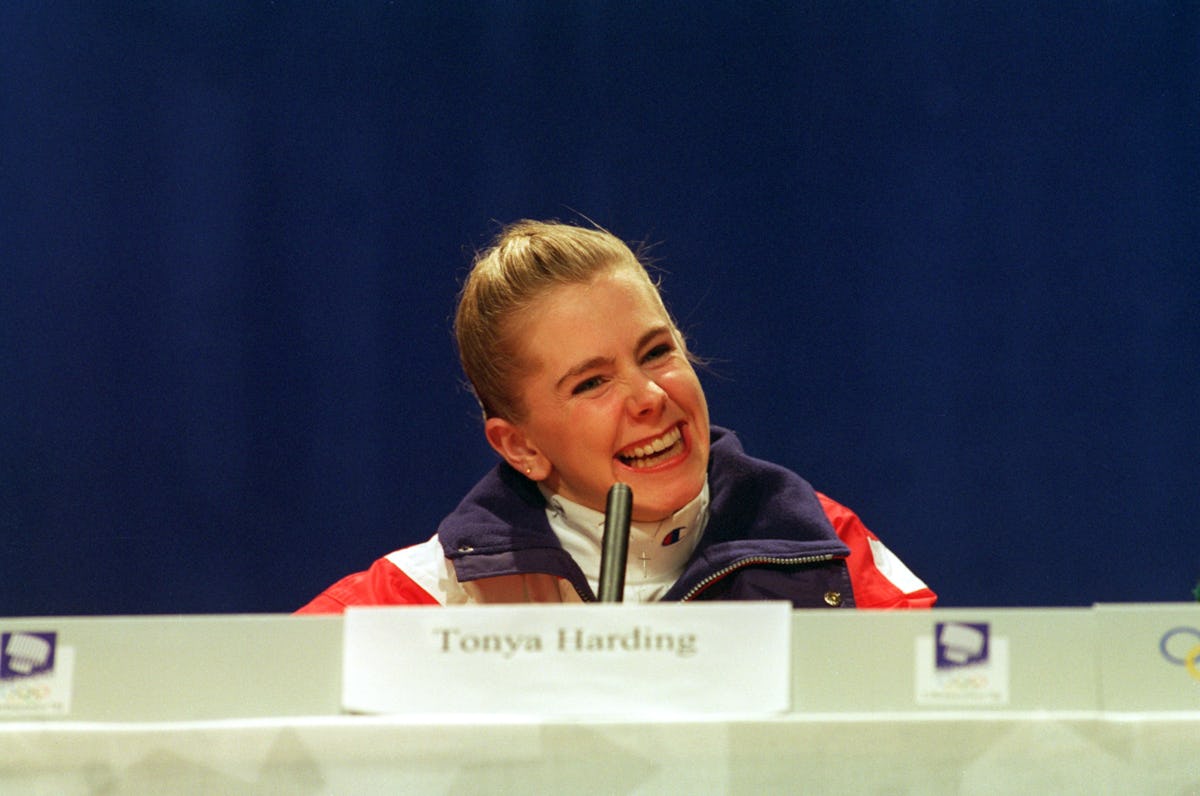 These Photos Of Tonya Harding IRL Prove Margot Robbie Looks Just Like Her In 'I, Tonya'
Phil Cole/Getty Images Sport/Getty Images
Since the news that Margot Robbie would play Tonya Harding in I, Tonya first broke in Mar. 2016, the skater and her 1994 fall from grace have been back on the brains of those who remember the scandal all too well. For those who don't remember it so well (hi, millennials), we've compiled some photos of Harding in real life, so you can see how Robbie's transformation compares.
I, Tonya tells the true story of Harding, a two-time Olympic figure skater and 1991 U.S. figure skating champion. She rose to prominence in the figure skating circuit as a teenager, placing third in the U.S. Figure Skating Championships in 1989. The next couple of years proved difficult for her, until 1991, when she landed her first triple axel at the U.S. Championships. She went on to win the silver medal at that year's World Championships, where she became the first American woman to complete a triple axel in an international event.
Unfortunately, following these successes, Harding was never again able to perform the triple axel in a competition. In 1994, her reputation quickly changed from that of a fallen champion to one of notoriety, when her ex-husband Jeff Gillooly and bodyguard Shawn Eckhardt hired an assailant to physically attack fellow U.S. skater Nancy Kerrigan, Harding's top competitor. Although she asserted that she had no prior knowledge of the attack (and maintains her innocence to this day), she was charged with hindering the prosecution of the attackers, stripped of her 1994 U.S. Championships title, banned for life from the United States Figure Skating Association, and became unwelcome in the professional figure skating community.
In I, Tonya, Robbie wears recreations of the skating outfits sewn for Harding by her mother, LaVona Golden. According to Vanity Fair, the makeup department tried to copy all of Harding's competitive looks exactly, right down to her nail polish colors.
Even with the carefully designed looks, transforming 5'6" Robbie into 5'1" Harding was a challenge, especially when it came to her actual facial features. For these, makeup department head La Mia Denaver used a combination of lash adhesive, black eyeliner, and wigs to achieve the final look. She also told Vogue that she used "reverse contouring" on Robbie to highlight and round out her features, as well as concealer to thin out her lips, which are naturally fuller than Harding's. TBH, I definitely see the resemblance.
The film also features shots of Robbie as a 44-year-old Harding narrating the story. For these, prosthetics were placed on her chin, cheeks, nose, under her eyes, and around her neck, according to Vogue. They were also used in a couple of other scenes throughout the movie.
When Robbie met with Harding prior to filming, the former athlete offered her advice on preparing for the role, including "Just do sit-ups!" Harding was less concerned with Robbie's portrayal of her and more interested in her well-being, her ice-skating training, and how she has been handling fame at such a young age, according to People. Harding, who currently lives in Oregon with her husband and son, also attended the Los Angeles premiere of the film, where she received a standing ovation when it was finished.
Robbie is joined in the film by Sebastian Stan as Jeff Gillooly and Allison Janney as LaVona Golden. Janney, who was actually a competitive figure skater as a teenager, underwent her own transformation. The actress told Newsweek that this role is "the least I've ever looked like me, which is freeing."
After seeing the photos and watching the trailer, I'm definitely excited to see how Robbie and Janney transform behaviorally into Harding and Golden in I, Tonya.