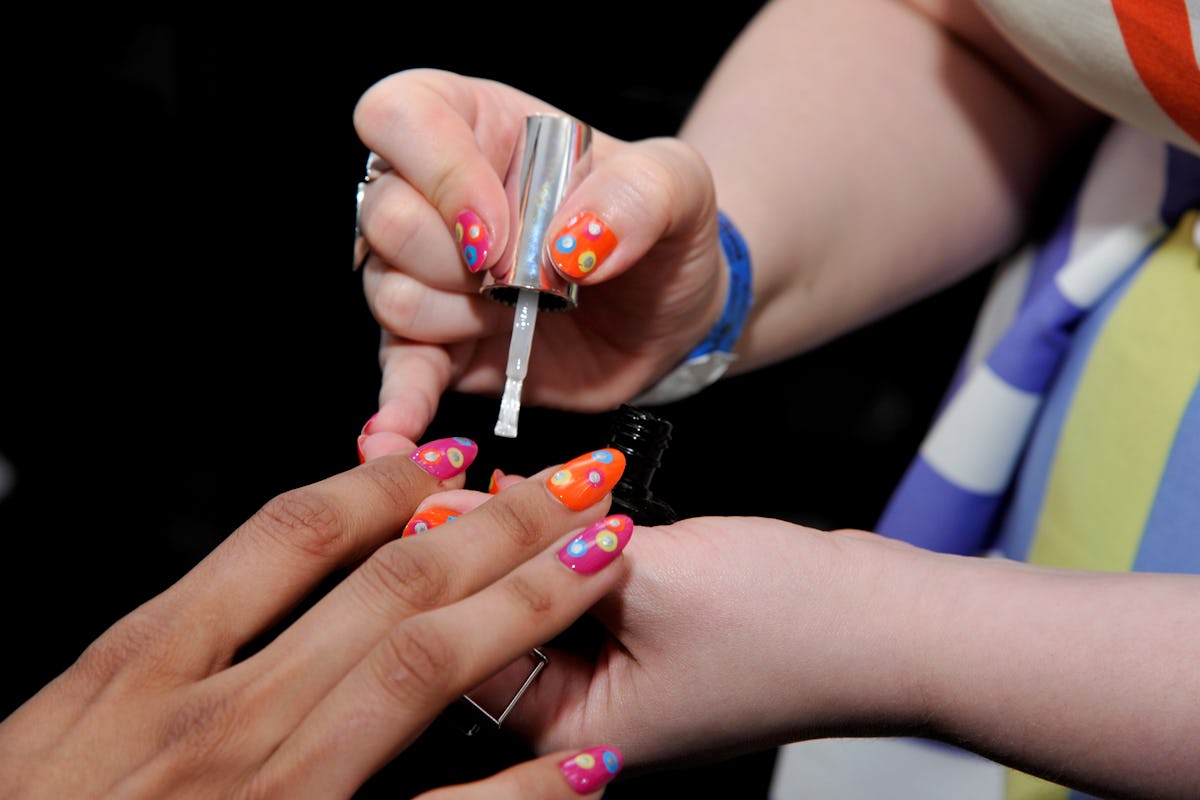 The Mismatched Nail Trend Is So Hot Right Now & Perfect For Anyone Prone To Indecision
John Sciulli/Getty Images Entertainment/Getty Images
This summer has been the season of all rainbow everything. Jewelry, sneakers, clothing, eyeshadow, you name it — the more color, the better. Case in point: the 2018 mismatched nail trend, which encourages you to wear all of your favorite colors across your fingertips in no sensical spectrum and has my inner teen smiling from ear to ear. Rainbow Brite, take note.
In high school, I used to love painting my fingernails a random array of my favorite Crayola-esque hues. Kelly green, bubblegum pink, lemon yellow, cherry red — my nail polish collection was vast and I hated only being able to show it off one manicure at a time. So, I didn't! I'd paint each nail a different vibrant hue and although it would look like I'd just finished an aggressive finger painting session each time I did (I've never been good about keeping the polish off the skin around my nails), I always loved the final mood-boosting result.
Seeing as fashion and beauty have both leaned into the wacky, the weird, individualism and super saturated looks as of late, it's not a huge surprise that mismatched nails have found their feet among the trendiest nail trends around. You only need to look to the hands of some of the coolest bloggers to see just how in they are. But rather than being mismatched in a totally haphazard way, bloggers and nail artists are matching colors with one another for truly cohesive standout effects.
Checkout some of my favorite interpretations of the trend below and next time you go for a mani-pedi, feel free to choose your 10 favorite hues — just be sure to tip your manicurist extra well.
Pastel With A Pop
Try painting four out of five nails on one hand different dusty pastel shades and adding in one hue that will add a pop of brightness. The pop hue, like this burnt orange, should still have a deep or less vivid quality to it to ensure the colors look cohesive. (Olive green and plum would be great alternatives to the burnt orange here.)
It's All In The Details
You're already going a little wacky with the mismatched-ness, why not add some equally random details into the mix? I love these little flower motifs in various shades and on random nails that give the manicure as a whole a '70s vibe.
I Don't Think You're Ready...
For these jelly nails! Featuring a totally random color palette and super long lengths, these jelly nails define out there.
Bright As Day
A selection of bright hues like those pictured above make for a supper happy manicure! It's even better if you can figure out how to transform each color into a little monster complete with tiny eyes.
Glitterati
Why not add a jolt of sparkle into the mix by painting a singular nail with a glitter hue? Thanks to the way gold and silver tend to catch light (they take on yellow and purple appearances, respectively) they blend in well with other bright colors.