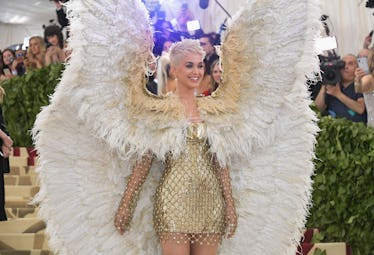 All The Stunning Looks At This Year's Met Gala Will Take You To Straight Church
Neilson Barnard/Getty Images Entertainment/Getty Images
The Oscars of the fashion community have finally arrived, and the Met Gala's red carpet is in full bloom with incredible interpretations of this year's elegant, yet perhaps controversial theme: "Heavenly Bodies: Fashion and the Catholic Imagination." On this year's red carpet, we've seen our fair share of literal, symbolic, and downright strange looks relating to catholicism, but the 2018 Met Gala red carpet looks did feature some common themes. From gilded outfits absolutely dripping in gold to ornate designs to intricate headpieces, the celebs at this year's fundraiser looked like actual royalty.
With Katy Perry's embodiment of a real-life angel, Rihanna's papal excellence, Lena Waithe's prideful pick, and Cardi B dripped in finesse, the looks below truly pushed this year's theme to its limits. It's clear that catholicism's impact on fashion doesn't stop at priest stoles, halos, and nun habits. Whether through color choice, silhouette, symbolism, or accessories, something that runs as deep as religious beliefs is bound to have a more profound impact on fashion trends than we might intially realize. Read along below to peep the most stunning looks from this year's Met Gala red carpet, and prepare for these celebs to take you to church.
Katy Perry
It looks like Katy Perry is a fallen angel from heaven in this absolutely astounding gold-and-ivory, winged creation from Versace.
Rihanna
Rihanna was truly the Young Pope we all deserved at the Met Gala tonight. Her ornate, beaded, and jeweled gown is Maison Margiela by John Galliano. She also wore Louboutin heels to complete the look.
Cardi B
Cardi B truly looked like a goddess sent down from above in this bejeweled Moschino gown and headpiece.
Kendall Jenner
Like a pure angel from heaven, Kendall Jenner was a vision in white in this Off-White off-the-shoulder jumpsuit and sheer gloves.
Lena Waithe
Lena Waithe's Met Gala look fills me with so much pride. The actress and activist's suit and rainbow cape is a creation from Caroline Herrara.
Mindy Kaling
Like the true royal she is, Mindy Kaling wore a white Vassilis Zoulias gown to the Met Gala, paired with long, navy blue gloves and a blue and gold crown.
Jasmine Sanders
@golden_barbie on Instagram, Jasmine Sanders looked like she stepped right out of a fairy tale in this gold H&M gown.
Selena Gomez
Selena Gomez donned a sheer, flowing Coach gown, making her look like an ethereal angel.
Ariana Grande
Ariana Grande appeared a literal work of art at the Met Gala, wearing an imagine from the Sistine Chapel on this gorgeous Vera Wang gown and large hair bow.
Gigi Hadid
Gigi Hadid's Atelier Versace gown made it seem like she had wrapped herself in a beautiful stained glass window.
Bella Hadid
Bella Hadid embraced her sinister side at the Met Gala in this gothic look from Chrome Hearts Official.
Sarah Jessica Parker
No stranger to interpreting the Met Gala's theme as literally as possible, Sarah Jessica Parker wore a gold Dolce & Gabbana gown with red hearts and a 3D headpiece.
Zoë Kravitz
Zoë Kravitz's sheer lace gown was the creation of Saint Laurent by Anthony Vaccarello.
Greta Gerwig
Wearing a gown from The Row, Greta Gerwig sported a modest look reminiscent of a nun's habit, at this year's Met Gala.
Frances McDormand
Frances McDormand was truly... Frances McDormand on this year's red carpet, wearing a Valentino gown and a rather lively headpiece.
Kylie Jenner
At her first major event post-baby Stormi, Kylie Jenner kept it simple in an all-black Alexander Wang number and those teeny, tiny sunglasses on the red carpet.
Jennifer Lopez
Jennifer Lopez continues to defy the rules of aging, looking beautiful as ever in a bejeweled Balmain gown with a large crucifix design on the bodice.
Kim Kardashian
Kim Kardashian looked like a gold goddess at the Met Gala red carpet. She wore a Versace dress, featuring small beaded crosses on the bodice of the gown.
Mary Kate And Ashley Olsen
Finally, Mary Kate and Ashley Olsen in their very natural habitat work with the Met Gala theme. The former actresses and now-designers wore pieces from their own brand, The Row, at this year's Met Gala.
Nicki Minaj
Nicki Minaj has us all seeing red in the best way possible in her ombre Oscar de la Renta gown, paired with Tiffany jewelry and a beaded headpiece.
Zendaya
The most realistic embodiment of St. Joan of Arc, Zendaya was ready to head to battle on the Met Gala red carpet in Atelier Versace.
Janelle Monáe
Wearing her usual, yet incredibly meaningful choice of black and white, Janelle Monáe worked with Marc Jacobs for this particular look. According to Vogue, considering Monáe's silver headpiece, this look is reminiscent of her Dirty Computer album artwork.
Sarah Paulson
Sarah Paulson wore a modest, high-collar, champagne-colored Prada gown with silver detailing, all-over bejeweling, and a gold clutch.
Blake Lively
Blake Lively stunned us all on the iconic Met Gala staircase in an Atelier Versace gown with a beaded gold bodice and a flowing red skirt with gold embroidered details.
Katherine Langford
13 Reasons Why's Katherine Langford's long red gown, with the accompanying pink cape, is from Prada.
Lana del Rey
Lana del Rey clearly crosses her heart and hopes to die in this Gucci gown, featuring a recreation of the sacred heart pierced by several real swords.
Madonna
Leave it to Madonna to have the edgiest, literal interpretation of the Met Gala theme. It was nothing but net for the singer, wearing a gown by Jean Paul Gaultier.
Issa Rae
Attending the Met Gala for the very first time, actress Issa Rae walked the red carpet wearing this embellished black and gold Michael Kors gown.
Amanda Seyfried
Both Amanda Seyfried's gown and tiara are the creations of Prada, and Seyfriend has brought spring yellow to life with this look.
Shailene Woodley
Totally suited up, Shailene Woodley's armor-adjacent look is from Ralph Lauren.
Scarlett Johansson
In a fairly surprising move, Scarlett Johansson donned a wine and pink ombre gown from Marchesa, co-founded by Harvey Weinstein's ex-wife Georgina Chapman.
Amber Heard
Amber Heard stepped out on the Met Gala red carpet in a red, form-fitting Caroline Herrara gown with a turtleneck collar.
Tiffany Haddish
Funny as ever on the Met Gala red carpet, comedian Tiffany Haddish meant business with her black and white Brandon Maxwell look.
Paris Jackson
Paris Jackson deemed herself a princess at this year's Met Gala, wearing a burnt orange Stella McCartney gown and a tiara on her forehead.
Miley Cyrus
Miley Cyrus dipped into the Met Gala red carpet with a black, extremely low-cut Stella McCartney gown.
Solange
Solange rocked a sleek, black, latex look with a pretty unexpected silhouette and golden halo, all from Dutch designer Iris van Herpen
Cara Delevingne
Cara Delevingne kept up her edgy vibe in this netted black outfit from Dior Haute Couture.