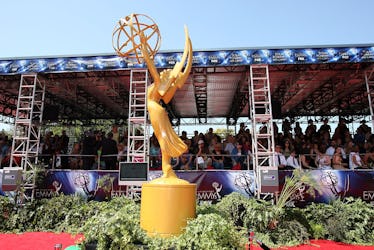 The 2018 Emmy Awards Ratings Hit An All-Time Low, Which Is Pretty Sad
Frazer Harrison/Getty Images Entertainment/Getty Images
Wait a second — do people not love TV? If the Emmy Awards ratings are any indication, it would almost seem like the answer is yes. Of course, we know with new programming and streaming options like Netflix, Hulu, Apple TV, and so forth, this isn't the case. However, the traditional awards ceremony broadcasted on network channel NBC definitely suffered in numbers. In fact, the 2018 Emmy Awards ratings hit an all-time low, which makes me feel... sad? Concerned? Nostalgic? Why does this bother me? I LOVE a good awards show and this one was definitely lackluster, making me (and obviously viewers everywhere) tune out and shut off. Sigh.
According to Deadline, the 70th Primetime Emmy Awards, which aired on Monday, Sept. 17, raked in a pitiful 10.2 million views. For reference, that's less than New York City's combined population. The awards show also had a 2.4 rating among its key demographic of adults ages 18-49. In comparison, 11.8 million people tuned in last year for the 2017 Emmy Awards hosted by Stephen Colbert, which had a 2.5 rating among the same demo.
Deadline suggests the plunge could have had something to do with the disconnected vibe set by hosts Michael Che and Colin Jost of Saturday Night Live fame. Deadline described them as having an "unwelcoming, disjointed approach," which checks out to me. Che and Jost followed in the footsteps of some of America's most beloved comedian giants like previous hosts Stephen Colbert, Jimmy Kimmel, and Ellen Degeneres.
(Also, just because it's 2018 and I'm an angry feminist, I have to point out the last time a woman hosted the show was in 2011 when Jane Lynch rocked the stage. JUST SAYIN'.)
Sure, other awards shows like the Oscars and Grammys have experienced greater drops in numbers in the past few years, but an 11 percent dip from the previous Emmy Awards record low is not awesome. In fact, the 70th Primetime Emmys dropped 34 percent in views from 2014, which is also the last time NBC hosted the show. That's pretty damn substantial in TV years.
Besides the low energy performance from Che and Jost and a lack of interesting speeches or occurrences throughout the production, sources are also pointing to competition airing elsewhere that evening... Ladies and gentleman, the Emmys were up against Monday Night Football!!! (Echo, echo, echo, echo!)
ESPN was airing the game between the Chicago Bears and the Seattle Seahawks, pulling viewers from the Emmy Awards stage and onto the football field. According to Deadline, the Emmy Awards viewership peaked around 8:45-9 p.m. at a 7.8 metered market rating, while the NFL peaked just after that with a 9.1 metered rating between 9:30-9:45 p.m. It's worth noting this means viewers tuned out of the awards ceremony prior to the largest category announcements to watch grown men chase around a ball. (I'm kidding! I know football is important! Please don't troll me!)
With the exception of one exciting surprise proposal on stage, the Emmys were kind of a big ol' miss this year. Where's Jane Lynch when you need her?