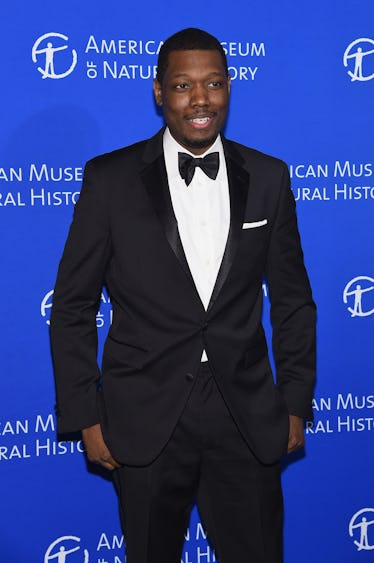 Here's What We Know About Michael Che's Love Life, If You Were Wondering
Jamie McCarthy/Getty Images Entertainment/Getty Images
Do you like Saturday Night Live? Who am I kidding, of course you do. Now that that's settled, a deeper, more personal question: Do you like men who are both good-looking and funny? If so, then have I got some good news for you, and it involves SNL comedian Michael Che. He, alongside Colin Jost, will be hosting the 70th Primetime Emmy Awards on Sept. 17 on NBC, meaning you will not be disappointed one bit while tuning in this year. Now I know what you're thinking: someone who is handsome and hilarious has to be off the market, right? Wellll. Let's talk about it. Is Michael Che single? Or is he dating someone, meaning one less gorgeous fish is in the sea for the rest of us? Let's discuss.
UPDATE: Leave it to Ellen to get down to the bottom of an issue like this. Mchael Che stopped by The Ellen Show with Colin Jost on Friday, Sept. 14, to promote their big gig at the Emmys when Ellen grilled him about his love life, asking straight-up, "Do you have a girlfriend?" Che replied, "No," on the spot. So mystery solved! Michael Che is single and (presumably) ready to mingle!
EARLIER: Here's the problem with Michael Che. He seems to keep his personal life... well, personal. I mean, how dare he? So rude. But In all honesty, I give anyone in Hollywood a ton of credit for keeping their relationship status on the down-low, mainly because it seems nearly impossible to do. While we have no real definitive proof that Che is dating anyone, seriously or otherwise, Che revealed to Us Weekly 25 facts that the world may not know about him, and his marital status did come up.
For his 20th fact, he wrote, "I'm not married," so right off the bat, we have a pretty good idea that Che didn't put a ring on it (or nobody put a ring on him).
I do want to point out, though, that there are a handful of facts that sound absolutely like he's being sarcastic, so even though we heard it straight from the horse's mouth, that horse could be lying to our faces for fun. So, there's that.
Sigh. Guess there's no real way to know.
What we DO know is that he's funny as hell, and has no problem pulling pranks on his Emmy's co-host, Colin Jost. According to Us Weekly, Jost and his girlfriend, Scarlett Johansson (you may have heard of her), celebrated his 36th birthday in June by having a quiet dinner out, which was interrupted by a "gift" from Che: A PARTY CLOWN.
SURPRISE!
OK, probably not as threatening as Pennywise, but still.
In his Instagram story, Che posted a screenshot of his conversation with Jost, which revealed a photo of himself wearing a goofy balloon hat and Johansson beside him, looking thoroughly pleased. "I sent a party clown to Colin's very intimate birthday dinner," Che wrote on his story, and after Jost sent the picture, he texted one simple word to Che: "Goddamit."
What a guy!
Single or not, I'm excited to watch Michael Che and Colin Jost host this year's Emmys, and, according to Variety, Hayma Washington, the Television Academy chairman and CEO is equally elated. "We are elated that Colin Jost and Michael Che will bring their hilarious collective talents to hosting this year's Emmy Awards," said Washington. "They have an amazing onscreen rapport and we are delighted to begin working with them along with the entire NBC team."
So proud of you, Michael!
I'll leave the hugging to Melissa, though.