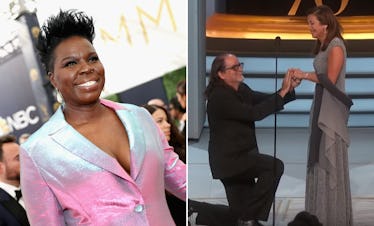 Leslie Jones' Reaction To The Surprise Proposal At The Emmy Awards Is Literally All Of Us
Rich Polk/Getty Images Entertainment/Getty Images & YouTube
When I grow up, I want to be as awesome as Leslie Jones. The Saturday Night Live star was enjoying herself at the 2018 Emmy Awards, like many celebrities in the house that evening, when magic struck. Yes, I'm talking about your favorite celebs accepting awesome awards and giving great speeches, but I'm also talking about a surprise proposal from the Academy Awards director, Glen Weiss, to his girlfriend, Jan Svendsen. However, no one was more surprised than Jones, even Svendsen. Leslie Jone's 2018 Emmy Awards reaction to the live proposal shows how much of a softy this truly badass babe is on the inside, and I love it, damnit.
If I can be a little real with you guys, it's a bit of a surprise the proposal made the cut on TV. Objectively, the average viewer at home probably doesn't know anything about Weiss and his accomplishments. He was up for the Outstanding Directing for a Variety Special award for his work on the Oscars against competitors who directed similar productions like the Super Bowl LII halftime show. Low and behold, Weiss won. While viewers at home might have glazed over momentarily as he accepted his award, they quickly perked back up again when they realized what he was about to do.
Weiss opened up his speech thanking a variety of people before explaining his mother died just two weeks prior to the Emmy Awards. Weiss mentioned, "Mom always believed in finding the sunshine in things and she adored my girlfriend Jan. Jan, you are the sunshine in my life. And Mom was right — don't ever let go of your sunshine."
Then came the real doozy. Weiss continued, "You ever wonder why I don't like to call you my girlfriend? Because I want to call you my wife."
Cue the applause. Cut to the reactions. Bring in the happy-crying.
The whole audience went totally nuts but Leslie Jones' reaction was by far the best. She simply stood up, mouth agape, and pointed haphazardly in Svendsen's general direction. She was stunned.
I mean, Svendsen was shocked, too. She sat there flapping her arms and nodding enthusiastically. Eventually, she made her way onto the stage where Weiss presented her with his mother's ring and got down on one knee. Obviously, she said yes.
But back to Leslie!!
Jones jumped on Twitter to share a video about her excitement and to let any man know he better propose to her at the Emmy Awards one day, or else. She explained to camera,
First of all, the man that's gonna be with me is gonna propose to me on the Emmys, OK? If you don't do that then you aint serious about our love. Real talk. Nah, nah, nah.
She captioned the video: "Man that was the best speech ever."
You can catch Weiss' entire speech and proposal in the video below or just fast forward to Jones' reaction at the 3:03 timestamp. I recommend both if you can swing it.