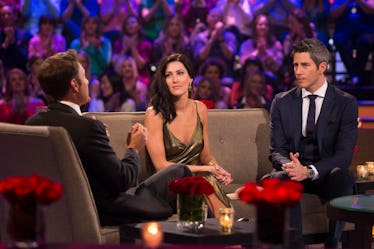 The 11 Most Cringeworthy Scenes In 'Bachelor' History Will Make You Feel So Awkward
ABC/Paul Hebert
There's no doubt that Becca Kufrin is one of Bachelor Nation's favorite Bachelorettes. Becca captured fans' hearts with her laid-back vibe, but she became an instant favorite when she went through one of the worst experiences in Bachelor history (and really just ever): a very, very public breakup with Arie Luyendyk, Jr. Things just got worse when Arie proposed to runner-up Lauren during the live After The Final Rose special, and in that moment, the Becca-Arie-Lauren love triangle officially joined an exclusive group of the most cringeworthy scenes in Bachelor history.
There are plenty of awkward moments in The Bachelor or The Bachelorette, but these are the scenes that made fans even more uncomfortable than a Bachelor being interrogated during a hometown date.
1. When Jason Mesnick pulled the original Arie.
Arie wasn't the first Bachelor to pull a bait-and-switch in the finale. In Season 13, Jason Mesnick proposed to Melissa Rycroft in the finale and broke up with her on the After the Final Rose special — and then asked runner up Molly Malaney for a second chance. Sound familiar?
As awful as this was at the time, it seems like everything ended up working out. Jason and Molly are still married, making them one of the few Bachelor long-term success stories, and Melissa moved on and now has three children with Tye Strickland.
2. When Jesse Palmer didn't know a girl's name and gave the wrong girl a rose.
A lot of men and women compete on The Bachelor or Bachelorette every year, so you can't fault a guy for forgetting someone's name every once in a while. But when it happens during a rose ceremony? That's bad news. Way back in Season 5, former NFL player Jesse Palmer did basically the worst thing possible when he accidentally gave a rose to the wrong girl.
After a super awkward conversation with Chris Harrison, Jesse realized that he couldn't just snatch the rose out of Katie's hand, so he offered to let her stay even though he originally wanted to send her home. It was so awful that the girl standing two people to Katie's left couldn't even mask her reaction. Same, girl, same.
3. When the Badlands was just plain... bad.
Oh, Ashley I. The Bachelor Winter Games star is currently dating fellow Bachelor alum Jared Haibon, but back in the day, she was Bachelor Nation's resident cryer. On Chris Soules' Season 19, Ashley I. and Kelsey participated in the worst 2-on-1 date known to man. Both women spent their time with Chris hating on the other, and then Chris took some alone time to process all the sh*t talking he just heard. As Ashely I. and Kelsey wait for Chris to return — on a four-poster bed in the middle of the desert, no less — they shared an awkward silence that lasted so long, Bachelor Nation will never forget it.
Ultimately, Chris sent home both Ashley I. and Kelsey — and then he got in his helicopter and left them both in the Badlands. Which, TBH, they probably both deserved.
4. When Brad Womack tried to be a good guy by picking no one.
Even though Brad Womack was trying to do the right thing by rejecting both DeAnna Pappas and Jenni Croft in the Season 11 finale, it didn't sit well with fans. Brad broke up with the women because he felt that it wouldn't be right to propose to someone just because he had to in the finale, which is definitely a better decision than proposing and breaking up with someone a few weeks later (cough, cough). But no matter how good his intentions were, hearing him say, "I can't look you in your eye and tell you that I love you," must have hurt.
Four years later, ABC (and Bachelor Nation) gave Brad a second chance and allowed him to return for The Bachelor Season 15. The second time around, he did things right and proposed to Emily Maynard, but they broke up shortly after the season aired.
5. When fans witnessed the worst kiss of all time.
During Season 16 of The Bachelor, fans witnessed the worst kiss of all time when Jamie Otis "showed" Ben Flajnik how much she liked him. I have nothing else to say about this clip — that's how bad it is.
6. When Robyn Howard didn't leave such a great first impression.
The first impression night is always awkward, but fans cringed even harder when Robyn Howard, a contestant on Season 13 tried — and failed — to do a flip out of the limo. Robyn tried to impress Sean Lowe by doing said backflip in her dress and heels (which would have been bad enough if she had been successful), but when she fell over and yelled, "Oh, no!" I think Bachelor Nation collectively gasped. The awful moment was made even worse when she said, "No, I got so nervous!" in a semi-baby voice. Ick.
7. When Nick Viall was kind of pathetic in his After The Final Rose interview with Andi Dorfman.
Over all, The Bachelor has produced way more cringeworthy moments than The Bachelorette, but that didn't stop Nick Viall from trying to make a spot for himself on this list. After Andi picked Josh Murray on the Season 10 finale, Viall went on the After The Final Rose special and asked Andi why she had sex with him if she didn't love him. It was... something. The awkward conversation plus the fact that Viall looked like a sad puppy when he asked why she "made love" with him? A Top 10 Cringeworthy Moment for sure.
8. When Ben Higgins had to sit through a Vegas showgirl set.
It takes serious guts to go out and dance like a Vegas showgirl in front of a guy you want to date (and all of America), so props to Olivia for taking the risk. But that being said, this routine was so awkward that I kind of never want to see anyone dance ever, ever again. And it seems like Ben might not, either.
9. When fans said, "Just kidding, maybe this is the worst kiss of all time."
Another first impression bites the dust. During JoJo Fletcher's season of The Bachelorette, a contestant named Will used a fortune teller to basically force JoJo into a kiss. And yes, it was every bit as awful as it sounds. Dude, any time a girl says "Thank you" after a kiss, she's not into you.
10. When Rozlyn like maybe hooked up with a producer?
During Season 14 of The Bachelor, America let out a collective "OMG" when Chris Harrison confronted Rozlyn Papa for allegedly having a relationship with one of the producers. It's a little unclear what actually happened, but Rozlyn seemed totally blindsided when Chris told her to pack her stuff and leave. A few weeks later, Rozlyn told Us Weekly that the show "threw [her] under the bus and tried to make [her] look bad." She continued:
We're bogged down with confidentiality agreements, but I will say that it's a TV show and there's a lot more to that story and it has nothing to do with sex.
Maybe one day Bachelor Nation will learn what really happened, but for now, this clip will have to suffice.
11. When Arie broke Becca's heart into a thousand pieces.
Welcome to the club, Arie.