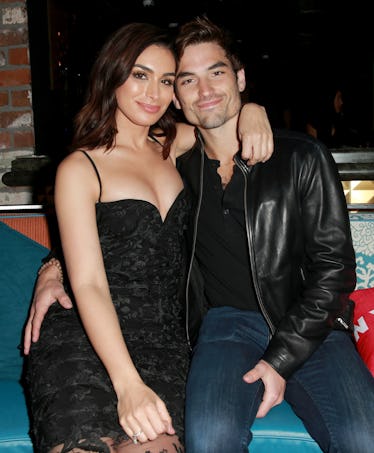 Ashley I. & Jared Are Officially Dating & Bachelor Nation Is Seriously Shook
Rich Fury/Getty Images Entertainment/Getty Images
Brace yourselves, Bachelor Nation, two of the show's staple cast members are officially together. Ashley Iaconetti and Jared Haibon are dating! Yup, the two Bachelor alums, who have had a complicated relationship for years, have officially committed to each other and are apparently completely in love. Iaconetti and Haibon confirmed their relationship in an episode of Iaconetti's web series, The Story of Us. Usually, she finds love stories of other people to feature on the show, but this time, the love story was hers and Haibon's.
The couple told People that while their friends/fellow Bachelor alums know about the long years that led to their relationship, their fans don't know the whole story. Given that, they wanted to give the Bachelor Nation members a chance to hear the whole thing straight from the source. Iaconetti and Haibon's full The Story of Us episode is a whopping 45 minutes long, but it's worth the watch if you're a diehard Ashley I./Jared shipper. If you're not in the mood to watch the full episode, I've got you covered.
The episode starts out with Iaconetti mapping out the first time she ever saw Haibon, which was on Kaitlyn Bristowe's season of The Bachelorette.
The video is basically a 45-minute in-depth history of how Ashley I. and Jared got together. Fans are shook by this news.
Iaconetti says in the video that she immediately though Haibon was attractive and at one point asked the Bachelor producers to make sure he was on Bachelor in Paradise when she was on it. They delivered on that request, and Iaconetti says that seeing Haibon in person for the first time was apparently "love at first sight" for her. "I saw him in real life. I remember walking down the steps in Paradise and seeing him at the bar, and it was the weirdest feeling. I was just so gravitated and drawn to him... it truly was love at first sight." She continued, "I didn't really believe in love at first sight. I believed in infatuation at first sight, but now after all these years, I'm pretty sure it was love."
If you're a Bachelor in Paradise stan, you'll know that the pair did go on a date and had a bit of a thing during their season in 2015, but Haibon cut things off with her on the show. Referencing that, Haibon said, "I never felt like it was over between us after Paradise. I'm not gonna lie and say that I was in love with Ashley during BiP. It was a slow build for me." What happened next was essentially three years of a flirting and a big will they/won't they question. According to the pair, they had a flirty friendship for a couple of years where they both knew they were attracted to each other (Iaconetti said they once met up in Boston and had an intense make-out session), but the timing never worked out.
In fact, by the time Haibon was convinced he wanted to be with her, Iaconetti was already dating Kevin Wendt, whom she met on Bachelor Winter Games. Haibon said that while he was filming Bachelor in Paradise Australia, all he could think about was Iaconetti. "I remember I was on a date with a girl in Paradise," he said, "and I was just sitting there and thinking, 'God, I wish Ashley were here. I just wanna hang out with Ashley.'" They apparently flirted a bit when he got back from Australia, but then Iaconetti went to Winter Games and met Wendt, then started dating him in 2017. "I remember I heard rumors that you might have met somebody," Haibon said to Iaconetti in the video, "and I was sad. Sometimes I need a kick in the *ss. That was a big kick in the *ss."
Iaconetti was still dating Wendt when she, Haibon, and a couple of other Bachelor alums went on a pre-scheduled vacation to St. Lucia together, and Haibon apparently told Iaconetti all about his feelings for her and kissed her in the airport before they returned to the states. Iaconetti said, "I thought 'OK, well that's everything I've ever wanted, but I'm definitely gonna continue dating this other guy,'" adding, "I do like [Wendt]. He's pursued me … he's been all in the entire time and I deserve to pursue somebody else and for somebody else to pursue me after all this time." Honestly, fair.
But Iaconetti knew in her gut that things weren't right with Wendt, so she broke up with him and not long after, she and Jared got together after three years of build up. "I just knew in my heart at that point that it wasn't right with Kevin. I ended the relationship because it had run its course, and then Jared was still there."
Haibon apparently wrote her a huge love letter that took three days to write and made Iaconetti "scream-cry" in her apartment when she read it, and that was it. They've been together ever since. Congrats, Ashley I. and Jared shippers. Your dreams have finally come true after three longggg years.