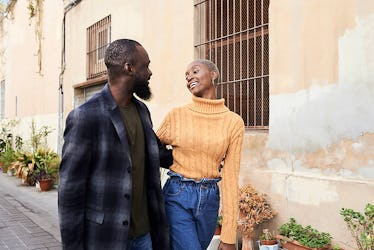 Here's The 1 Thing You & Your Partner Fight About Most Often, Based On Your Zodiac Sign
Do you feel like you're constantly in a state of argument déjà vu? Like you just keep fighting the same old fights over and over, regardless of who you're dating? So frustrating. Why do you keep getting stuck in this same argument time loop? The answer, it turns out, may actually be written in the stars, because the one thing you're most likely to fight about in relationships based on your zodiac sign is so real. And knowing what it is may actually be the first step to changing your pattern.
One of the reasons we might argue in relationships may come down to what we expect out of our partners, as well as our own personal boundaries. Both are grounded in our personalities and characteristics, which is where the zodiac comes into the equation. You can tell a lot about what you want from a partner and what your triggers are by looking at things through the lens of your astrological sign. In turn, this can give you some control over your reactions, as well as a way to communicate what you're feeling to your partner, so that together you can find a new solution to the problem and hopefully find a way to argue a little bit less — even if that means giving up some of the makeup sex too. (Yes Scorpio, I'm talking to you.) So, with that in mind, here's the thing you're most likely fighting about most often, based on your astrological sign.