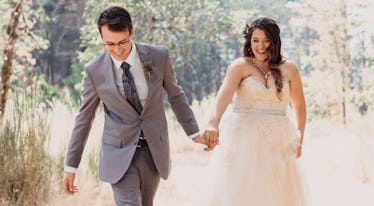 The 1 Thing These Couples' Therapists Tell Newlyweds Is Such Valuable Advice
Deciding to tie the knot is a huge step for a couple to take, and while marriage may be all smiles in the beginning, some ups and downs are almost always to be expected. Often, advice can be most helpful before problems arise to avoid doing more damage than necessary. That's why I asked five professionals for their juiciest pieces of advice for couples who have recently said "I do". The one thing these couples' therapists tell newlyweds isn't all the same, but they definitely do echo similar sentiments.
Although it seems like we're constantly hearing about the high divorce rate plaguing the United States, the truth is that according to a recent analysis by University of Maryland sociology professor Philip Cohen, the divorce rate actually fell 18 percent between 2008 and 2016. Surprisingly, the data suggests that younger generations are outperforming their parents when it comes to staying married because more and more couples are deciding against marrying before they're financially established.
It's probably safe to say that divorce isn't top-of-mind for most newlyweds, but actively cultivating a healthy marriage is a process that ultimately might help a relationship work out in the long run. Below, some advice from real life couples' therapists that can help you make sure your marriage starts off strong, and stays that way.