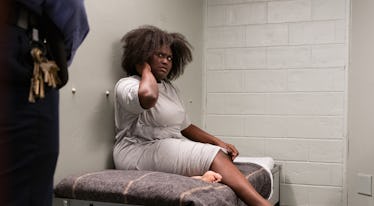 Taystee's Trial On 'Orange Is The New Black' Season 6 Introduces A New Social Issue
Netflix
Season 6 of Orange Is the New Black takes one inmate from the prison to the courtroom in one of the standout arcs of the new run of episodes. Tasha "Taystee" Jefferson has become one of the most prominent players among the Litchfield women in the past few seasons, and that culminated in her pivotal leadership role in the prison riot during Season 5, but she is all on her own in Season 6. Taystee's trial in Orange Is the New Black Season 6 was a massive moment in the new season, and it could have a serious effect on the upcoming Season 7.
Spoiler alert: This post will discuss plot details throughout Season 6 of Orange Is the New Black. Back in Season 5, Taystee played an instrumental role in the negotiation side of the Litchfield prison riot. As warden Joe Caputo's secretary, Taystee was able to use her position to spread a message about prisoners' rights to the public during the riot, and became instrumental in negotiating for more humane treatment and better opportunities for inmates with MCC, motivated by the recent death of her friend Poussey by an inexperienced guard. Through her activism, Taystee became one of the faces of the riot, which landed her in Administrative Segregation (Ad Seg) after being transferred to max, along with the other inmates found in Freida's underground bunker at the end of Season 5.
Season 6 kicks off with investigators trying to figure out which handful of Litchfield inmates to prosecute for the riot, admitting they need scapegoats to face legal prosecution. And when the news breaks that CO Desi Piscatella was shot and killed during the Litchfield raid, it spells horrible news for Taystee, since she was last seen pointing a gun at Piscatella's head in the bunker.
Of course, viewers know that Piscatella was actually killed by an under-trained police officer who freaked out when he saw the CO running towards him during the Litchfield raid, but his fellow cops helped him cover up the murder and frame the bunker inmates with it. The only people who actually know the truth are Black Cindy and Suzanne, who hid in the bunker when the police came and secretly witnessed the cops framing the inmates for Piscatella's murder. But fearing for her own safety, Cindy keeps what she saw to herself and forces Suzanne to do the same.
Cindy's silence winds up condemning Taystee, who finds herself facing trial for Piscatella's murder along with riot incitement charges. Taystee actually does get a surprising amount of support from Joe Caputo, who winds up quitting MCC over their treatment of Taystee, and from the Black Lives Matter movement, who pack the seats at all her hearings and send her letters of support. But sadly, it is not enough to win Taystee's trial. In the season finale, Taystee is found guilty, and returned to maximum security prison, awaiting an unclear fate.
Taystee's future will likely be a major part of Season 7, which Netflix has already picked up. Her sentencing after that guilty verdict is never made clear, but we can assume it could be life in prison, or even more dire (though admittedly unlikely), the death penalty. We will have to wait and see what happens to Taystee when Orange Is the New Black returns next season.