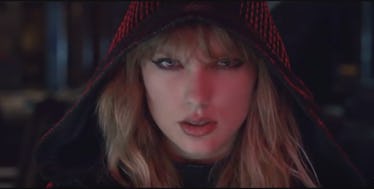 Taylor Swift Brought Back The Old Taylor With This One Detail In "...Ready For It?" Video
At long last, Taylor Swift has dropped a new music video and let's just say there's a lot to unpack. Taylor Swift's white horse in "...Ready For It?" is one visual that has people talking, as fans got right to work picking apart every little detail, looking for meaning and more clues. Let's dig in and see what "...Ready For It?" is all about.
Swift shared a teaser trailer for the "...Ready For It?" music video ahead of dropping it at midnight on Oct. 27 and it revealed a few things that fans focused on. The biggie? Swift appeared naked (or at least in a nude bodysuit) in one part, but given the short clip, it wasn't super easy to decipher what was going in in the "...Ready For It?" video.
Many wondered if "....Ready For It? would throw shade at Kanye West. With the naked bodysuit, there was plenty of chatter that Swift might have been referencing his "Famous" music video, in which a naked wax model of Swift lays beside West in bed. His lyrics (which he claimed Swift signed off on) included this Tay reference: "I feel like me and Taylor might still have sex/Why? I made that b*tch famous."
Then there were all of director Joseph Kahn's tweets teasing an "anime homage" and some sci-fi vibes... and boy, did it deliver. The "Ghost In the Shell" inspiration is definitely evident.
One of the biggest things fans picked up on was the visual of a white horse, however.
Let's turn to the fan reaction about the white horse detail, which might just be a callback to Swift's song "White Horse" from her album Fearless.
This general reaction is spot on: "WHITE HORSE!!! FREAKING SH*TTT!!! ‪#ReadyForItMusicVideo."
And a little lyrical reference always helps too: "'And its too late for you and your white horse to come around...' I see what you did there ‪@taylorswift13 and ‪@JosephKahn ‪#readyforit."
Is anyone else feeling this way? "Oh wow this White Horse reference has me emo on the ground in the fetal position and I am 16 again and learning to be FEARLESS ‪#ReadyForIt."
One fan tweeted: "Taylor finally found her white horse."
Another fan noted: "I can be a nightmare dress like a daydream."
There was a lot of dissecting going on with the video, naturally, with one fan tweeting: "The old Taylor really is dead! taylorswift taylornation ‪#reputation ‪#taylorswift ‪#readyforit."
Others were crazy in love with the video, with one fan tweeting: "This is the perfect visual masterpiece for a perfect song, I love this so much! Fave part was taylor on the white horse #ReadyForIt."
And this parallel is pretty cool: "'Who are you?' I'm you, but stronger ‪#ReadyForIt," while another noted: "Taylor put the white horse from the blank space video in ready for it I'm screaming."
Some, however, were puzzled by what they just watched, with one fan tweeting: "So Taylor's cyborg killed old her and is now the new taylor?? ‪#ReadyForIt."
And someone spotted this teensy detail, which is so, so cool: "Taylor and Joe's year of births are in the video ‪#readyforit ‪#taylorswift."
Anyone looking for some more clarity about the meaning behind Swift's new video need only check out the director's retweet of this very cool theory: "#ReadyForItMusicVideo What I took from it is that Taylor freed herself from how others view her life on display. @JosephKahn @taylorswift13."
I think we can all agree with this fan's tweet though: "TAYLOR LOOKS LIKE SUCH A BOSS IN THE READY FOR IT MUSIC VIDEO."
Who else is re-watching for more clues?
Check out the entire Gen Why series and other videos on Facebook and the Bustle app across Apple TV, Roku, and Amazon Fire TV.