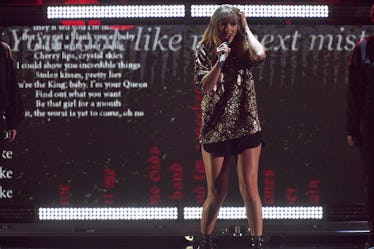 This Surprise Taylor Swift Performance Has Everyone Talking About The Old Taylor
Kevork Djansezian/Getty Images Entertainment/Getty Images
Saturday, March 30, 2018 might be known from now on as the day Taylor Swift proved that "the old Taylor" isn't "dead" after all. OK, I guess I can't be totally certain about that, but Swift definitely got back to her roots on Saturday night. Taylor Swift's surprise performance in Nashville was a throwback to her early days, and her fans are totally here for it.
Swift took the stage at the Bluebird Cafe in front of about 40 people on Saturday night, according to The Tennessean. She wasn't scheduled to play, but the crowd that was originally gathered to hear songwriter Craig Wiseman perform got a pleasant surprise when Swift joined him on stage. Close followers of Swift's career probably know the singer got her start by playing songs at the Bluebird Cafe when she was only 14 years old, and she shared why the venue is so important to her as she sang "Shake It Off," "Better Man," and "Love Story" on Saturday night.
Reportedly performing as part of a documentary about the Bluebird Cafe in honor of its 35th anniversary, Swift shared her love for the cafe when she said, "...this is kind of the only place where this exists — this particular place where you get to come and hear the writer's take on the songs they've put out into the world."
"Taylor at the Bluebird Cafe 2004 ... 2018."
Fans who were lucky enough to hear the surprise set took to Twitter to (thankfully) share all the nostalgic details.
"Well. Just saw Taylor Swift at the Bluebird Cafe with about 50 other people. She is very talented."
"She performed 'Shake it Off,' 'Better Man,' and 'Love Story.'"
Not only did Swift join Wiseman for acoustic performances of some her best hits, but she also shared an anecdote that involved Swift and Ed Sheeran "stealing" a "large, inflatable bottle of Fireball" from one of Wiseman's parties. LOL, Taylor. Apparently after sharing a shot of Fireball Whisky with Wiseman at the party, Swift eyed the prop Fireball bottle and took it for her own.
Perhaps in remembrance of the inflatable Fireball bottle that Wiseman had just learned was snatched (in good fun) from his party, he pulled out a couple of Fireball shots to take with Swift on stage. The singer was game, but she apparently let Wiseman take the lead to see if he was bluffing. She told Wiseman, "I'm literally watching you, and I'm just going to do what you do." Wiseman took his shot, and Swift swigged hers to follow suit.
OK, this seriously sounds like the most fun impromptu concert ever.
Before performing one of her 2009 hits, Swift shared that Wiseman missed out on co-writing this song with her because he said "he didn't get it." There doesn't appear to be any hard feelings about it, but before playing it, Swift said, "This is the song I almost wrote with Craig Wiseman. It's called 'Love Story.'"
Swift's throwback performances of "Love Story" and Shake It Off" had fans on Twitter living for "the old Taylor."
"I'm literally dead Taylor Swift was at the Bluebird Cafe last night ... that's where she was discovered."
"T.S. coming back to where it all began is everything."
"Taylor Swift at the Bluebird Cafe????? I love 2018."
Swift never fails to surprise fans, and everyone seemed to be pretty excited about her throwback appearance at the Bluebird Cafe on Saturday night.
That wasn't Swift's only recent surprise for her fans, though. On Friday, March 30, Swift dropped a second music video for her song, "Delicate," and this Spotify exclusive video gave fans more insight into her reported boyfriend, Joe Alwyn. Swift sported a charm necklace with the letter "J" engraved on it, and now fans have decided this means their relationship is music-video official.
Swift's Saturday night performance didn't mention Alwyn, but the singer wowed the crowd with her acoustic throwback performances — and now you can spend the rest of the day watching videos of the return of "the old Taylor." Was she back for one night only? I guess you'll have to wait and see (and cross your fingers for more impromptu performances).