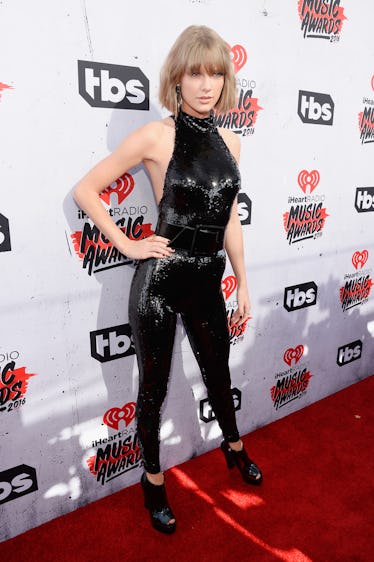 This Tiny Detail In Taylor Swift's 'SNL' Performance Has Fans Losing It
Frazer Harrison/Getty Images Entertainment/Getty Images
Right on the heels of dropping her newest album, Reputation, Swift performed on the stage of Saturday Night Live. Her performance was so anticipated because no one has seen Swift perform in what feels like forever. As expected, she did not disappoint. Taylor Swift's SNL performance was absolutely unforgettable because of one tiny accessory — her microphone.
There were a lot of amazing and historical moments that happened during the Nov. 11 episode. Swift performed for the first time in a long time, and Tiffany Haddish became the first African American female comedian to host SNL, according to Forbes. Honestly, can I get a throne for both of these ladies?
Swift's first live performance after releasing Reputation was a biggie. So many eyes were anxiously on the singer. Besides giving the most badass performance of "... Ready For It," Swift served up some major attitude. She was joined on stage by four backup dancers who were great, and even grabbed some mics at one point in the song.
The most talked about detail of the performance was Swift's gold microphone. The glitzy piece got so much attention for the bejeweled golden snake that was slithering up Swift's hand.
You can take the snake out of the spotlight, but you can't stop it from releasing an amazing album. AMIRIGHT? Needless to say, fans were freaking out.
Many fans enjoyed the subtle shade and celebrated Swift's performance.
Swift performed twice during the 90-minute live show. The second performance was a very unique acoustic version of "Call It What You Want." Swift reinvented the song to take on an even dreamier melody. During her performance, she rocked a black sweater with galaxy print that featured (of course) a snake creeping up the front. I'm loving Swift's embrace-the-snake persona.
Swift's SNL performance on Nov. 11 comes just one day after Reputation's release. Although she is no stranger to the sketch comedy show, Swift as the musical guest seemed to be the last box filled for her triumphant return into the mainstream.
Just because she has been keeping it low-key doesn't mean Swift hasn't been hustling all around Hollywood and the music industry. More accurately, she's taken her talents to Nashville. Swift wrote the song "Better Man" and sent it along to country band, Little Big Town. The song ended up winning Song Of The Year at the 51st Annual Country Music Association Awards.
Since Swift was in New York City for SNL rehearsals, she was not able to attend the CMAs. However, she was sure to share the love to Little Big Town and her country music roots.
Swift posted a 12-second video on social media of her enjoying the CMAs the way most of us do (well, at least the way I do) — wearing a comfy flannel shirt and drinking wine. Swift, I like your style. This solidifies even more that we would be best friends.
Swift looks utterly shocked during the announcement and was sure to give all her love to Little Big Town in her post.
"Better Man" is an amazing song. Little Big Town definitely makes it unforgettable, but Swift's song writing comes through strong. The lyrics of the first verse and chorus read,
I know I'm probably better off on my own / Than lovin' a man who didn't know / What he had when he had it / And I see the permanent damage you did to me / Never again, I just wish I could forget when it was magic / I wish it wasn't four am, standing in the mirror / Saying to myself, you know you had to do it I know / The bravest thing I ever did was run
Sometimes, in the middle of the night, I can feel you again / But I just miss you, and I just wish you were a better man / And I know why we had to say goodbye / Like the back of my hand / And I just miss you, and I just wish you were a better man / A better man
You can really see Swift's influence when reading the lyrics. I'm glad Swift got this song in the right hands.
It would have been fantastic to see Swift at the CMAs this year, but when SNL calls you must go. Her rehearsing really paid off because Swift did amazing.
I am certain Swift is in for an unbelievable ride for the next few months. Literally cannot wait to see what's next.
Check out the entire Gen Why series and other videos on Facebook and the Bustle app across Apple TV, Roku, and Amazon Fire TV.