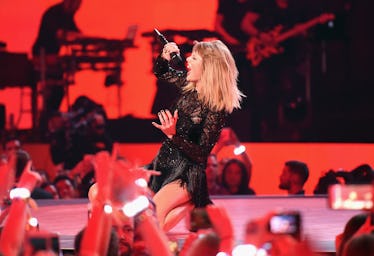 A Tiny Detail In Taylor Swift's 'Reputation' Teaser Throws Major Shade At Calvin Harris
Kevin Winter/Getty Images Entertainment/Getty Images
Taylor Swift knows no bounds. Honestly, I cannot get enough of this woman. I live for her shade throwing and subtle jabs. Lucky for me, Reputation releases have been filled with them. The latest tiny detail that Reputation throws shade at Calvin Harris was picked up by fans on Twitter. Follow the snakes, get the truth.
On Nov. 7, Swift posted a video on Twitter teasing two magazines she's been working on for the album release. The two separate and exclusive magazines look like an outlet Swift used to give fans a behind-the-scenes look at the creation of Reputation.
Swift is seen painting, writing, and recording in the teaser video. Fans also got a sneak peek of what happened at the London-based photoshoot for the Reputation album cover.
One thing new I learned is that I had no idea how much Swifty loved to paint. People who buy her special magazines will get to see how Swift "paints her feelings." WHY IS SHE SO COOL?
It's obviously going to be a great collectors item for fans. While looking at pictures from the magazine, Swift herself exclaims, "This is amazing!"
According to Target's website, Volume 1 and Volume 2 of the magazine will feature "poetry written by Taylor, personal photos, paintings, handwritten lyrics, and more." OK, OBVIOUSLY WE ALL WANT IT.
Now that the gushing about how cool this looks is over, we can get to the shady business. You know how you can get all of the tiny details from Taylor Swift fans? Well, they just keep proving this as true. Nice work, Swifties. Some clever genius zoomed way into the "... Ready For It?" lyric page from the magazine and found something surprising.
The handwritten page actually says, "Written by: Taylor Swift aka Nils Sjöberg." Do you remember Swift's pseudo name? She used it when she collaborated with her ex, Calvin Harris. In July 2016, reps confirmed she penned the lyrics to Calvin and Rihanna's hit "This Is What You Came For" and used Nils Sjöberg as a cover.
Why would Swift want to throw a little shade at Harris? Oh, maybe because he went on a giant Twitter rant condemning Swift for all the pain she and her team caused him. A particularly juicy tweet was when Harris told Swift "I know you're off tour and you need someone new to try and bury like Katy… but I'm not that guy." Ouch. The DJ/producer's fans bombarded Swift's social media with endless snake emojis. So, yeah, I'd be a little peeved, too.
IF YOU THROW SWIFT A SNAKE, EXPECT HER TO MAKE A KICK*SS ALBUM OUT OF IT.
This is not the first time Swift has referenced Nils Sjöberg in relation to Reputation. Swift's pen name actually made an appearance in the "Look What You Made Me Do" music video.
At the beginning of the video, Swift is a disturbingly scary zombie digging around the graveyard. One gravestone behind her reads "Nils Sjöberg." LOOKS LIKE NILS ROSE UP FROM THE DEAD, SHE DOES IT ALL THE TIME.
Fans are definitely looking at this subtle hint as Swift throwing shade towards Harris.
This is just making fans even more excited for the album.
People have also commented on the fact that we all thought Nils Sjöberg was dead.
In Swift's world, there are no accidents. Besides for the purpose of purely throwing shade, I think Swift knows her fans live for these tiny details. I know I do. It's good to be Taylor Swift, but it's almost even more amazing to be one of her fans... almost.
Overall, we've had a lot of good news today. Swift is still throwing shade, Target is releasing really cool, collectable magazines, and Nils Sjöberg is back from the dead. WHAT A TIME TO BE ALIVE.
Check out the entire Gen Why series and other videos on Facebook and the Bustle app across Apple TV, Roku, and Amazon Fire TV.