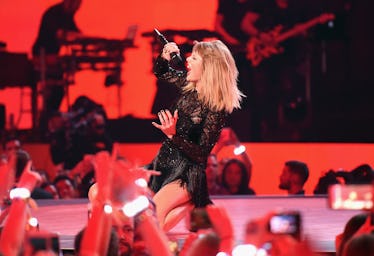 Taylor Swift Is Already Winning 2018 After 'Reputation' Jumped To Number One
Kevin Winter/Getty Images Entertainment/Getty Images
2018 is officially here, and a new year is all about starting on the right foot. Taylor Swift has officially taken that sentiment to heart, and is already winning 2018. Her album that was released back in November, Reputation, debuted at number one on the Billboard charts. It sold over one million units in its first week, which made Swift the first artist in history to see "four different titles move that many copies in seven days," according to Forbes. Reputation stayed on top for four weeks before falling, until the new year, where now Taylor Swift's Reputation is number one again.
According to Billboard, the album probably "benefited from last-minute Christmas shopping, as the chart's tracking week included the final three days before the Christmas holiday on Dec. 25." So, any Swifties out there who couldn't think of a last-minute gift, and just went for giving out a bunch of Reputation albums for the holidays, Swift has you to thank for her number one spot. The peak position truly does show us that 2018 will be the year that Reputation-era Taylor has come to slay. If any of you were able to snag tickets to her upcoming arena tour, you know that this year already has a reputation for being exciting. So, the real question is, are you "...Ready For It?"
Swift's Friend, Ed Sheeran, Made It To Number Two
If the news couldn't get any better, Swift now has her best friend, Ed Sheeran, just below her at number two. Sheeran's album, Divide, had to rise two spots to get to that position. His song, "Perfect," probably helped the album reach that spot as it is now the number one song on the Billboard Top 100. It probably doesn't hurt that Sheeran released a duet version of the song from his album feature Beyoncé. Having Queen Bey on any track will help bring it to the top.
So, it seems that Swift is in good company on the top of the charts with her bestie by her side, and I can't get over their song together on the Reputation album, "End Game," which also features Future. The two friends performed the song together at KIIS FM's iHeartRadio Jingle Ball in Los Angeles on Dec. 1. It was the first time the two have shared the stage together since 2013. Hopefully, in the new year, we might get to see a little more of these two performing together.
What Can We Expect From Taylor Swift In 2018?
She's already starting the year so strong, but there is so much more to look forward to from Swift this new year. As mentioned before, she has the Reputation tour coming up. That will keep her pretty busy from May until October. I can't wait to see what surprises she has in store, as I'm sure we're all remembering how great The 1989 World Tour was. I know I'm still daydreaming about all those epic surprise guests we saw strut their stuff on the runway.
We can also expect to see more epic music videos for any new singles in 2018. Maybe she'll even call upon her squad again for some help like in the "Bad Blood" music video. That could mean friends like Selena Gomez or even Todrick Hall making another appearance.
I'm also hoping for the love story to continue between Swift and boyfriend, Joe Alwyn. The two were reported to have spent NYE together — of course they would have. It's rumored that Taylor Swift wrote her song "New Year's Day" about Alwyn, so it would just make sense that they spend the holiday together. In the song, Swift sings, "I want your midnights. But I'll be cleaning up bottles with you on New Year's Day."
Hey Tay, you've already started 2018 coming out on top, and I can't wait to see what else you have in store. This is your new year, and I hope you have a good one with a reputation to remember.