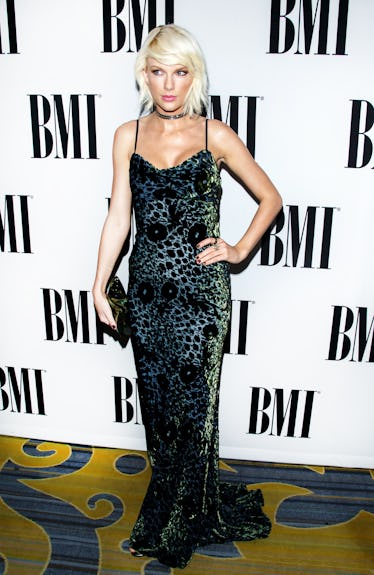 These Romantic Lyrics From Taylor Swift's 'Reputation' Will Have You Swooning
Mark Davis/Getty Images Entertainment/Getty Images
I know everyone was looking forward to the shade Taylor Swift would be throwing in Reputation. However, some of Swift's strongest song writing is about (you guessed it) love. A handful of her newest songs are so romantic, they have fans declaring on Twitter it will be played at their wedding one day. Even if you don't take it that far, Taylor Swift's most romantic lyrics on Reputation will make you swoon.
Swift writes about exes, possible current boyfriends with blonde hair, unrequited love, and doomed romances on her newest album. She is seriously a word wizard, and knows how to tug on the heart strings. Damn you, Taylor! *Said while crying listening to Reputation.*
Below are 10 of Swift's most romantic lyrics. Get ready to want to fall in love ASAP.
1. I, I loved you in secret / First sight, yeah, we love without reason / Oh, twenty-five years old / Oh, how were you to know? / And my, my love had been frozen / Deep blue, but you painted me golden / Oh, and you held me close — "Dancing With Our Hands Tied"
2. I wanna be your end game / I wanna be your first string /I wanna be your A-team / I wanna be your end game, end game — "End Game"
3. Don't blame me, love made me crazy / If it doesn't you ain't doin' it right / Lord save me, my drug is my baby / I'll be usin' for the rest of my life — "Don't Blame Me"
4. Sometimes I wonder when you're asleep / Are you ever dreaming of me / Sometimes when I look into your eyes / I pretend you're mine all the damn time / Cause I like you / Is it cool that I said all that / Is it chill that you're in my head / Cause I know that it's delicate (delicate) — "Delicate"
5. Even in my worst times, you could see the best of me / Flash back to my mistakes / My rebounds, my earthquakes / Even in my worst light, you saw the truth in me / And I woke up just in time / Now I wake up by your side / My one and only, my lifeline — "Dress"
6. And all at once, you are the one I have been waiting for / King of my heart, body and soul, ooh whoa / And all at once, you're all I want I'll never let you go / King of my heart, body and soul, ooh whoa — "King Of My Heart"
7. You're so gorgeous / I can't say anything to your face / Cause look at your face / And I'm so furious at you for making me feel this way / But what can I say? / You're gorgeous — "Gorgeous"
8. Hold on to the memories, they will hold on to you / And I will hold on to you / Please don't ever become a stranger whose laugh I could recognize anywhere — "New Year's Day"
9. I don't wanna hurt you / I just wanna be / Drinking on the beach / With you all over me / I know what they all say / but I ain't tryin' to play — "End Game"
10. I want your midnights / but I'll be cleaning up bottles with you on New Year's Day — "New Year's Day"
11. For you, I would cross the line / I would waste my time / I would lose my mind — "Don't Blame Me"
Swift definitely wrote some seriously sexy songs for Reputation, I think more than any of her other previous albums. It's great to see her get out of her comfort zone and write about things close to her heart.
Overall, Reputation has some amazing songs. Whether you want to fall in love, get over an ex, or throw shade — there's a little something for everyone.
Check out the entire Gen Why series and other videos on Facebook and the Bustle app across Apple TV, Roku, and Amazon Fire TV.