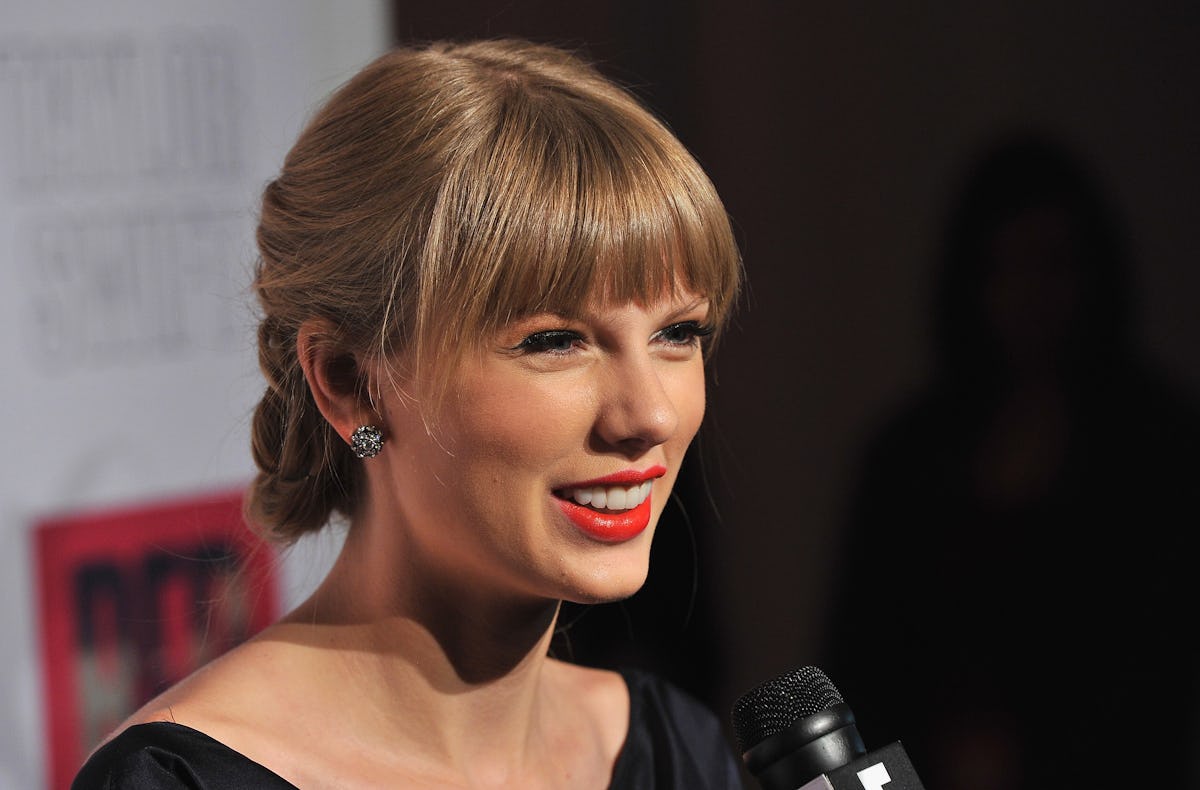 Taylor Swift's Sweet Wedding Gift To A Fan Proves She's Still The Best
Larry Busacca/Getty Images Entertainment/Getty Images
You know who you can always depend on to give a heartwarming gesture and make someone else's dreams come true? Taylor Swift. The singer is known for her generous gestures to fans. And most recently, Taylor Swift sent a fan a wedding gift, and it's so beautiful.
It all started with Brittany Lewis' fiance's love for Taylor Swift, according to Cosmopolitan. Lewis knew that Alexas (aka Lexi) Gonzalez was the ultimate Taylor Swift stan, and they often jammed out to her hit single "Love Story." Gonzalez even played it at their proposal! Before their wedding, Brittany decided to make Gonzalez's wildest dream come true. She sent tons of messages to Swift in hopes that the singer would do something nice for their big day.
And to their surprise, Swift came through! "The Look What You Made Me Do" singer sent flowers and an accompanying note to their wedding on Jan. 12, and it couldn't have been any cuter.
On Jan. 14, Gonzalez uploaded a picture of the couple from their wedding ceremony, along with the note and flowers. The caption read, "Still In freaking shock that @taylorswift13 sent me and my amazing Hubby flowers on our wedding day! #LoveStory #SinceHighSchool #WeddingOfTheYear"
The note, you ask? Here's what it said:
You have no idea how honored I am that "Love Story" has been such a big part of your beautiful love story. Have the most magical wedding day and hopefully I can meet you both soon!
*swoons*
According to the couple's Knot.com page, they've been together for nine years. Gonzalez wrote that Lewis adores flowers, and they both share a love for Swift's anthem "Love Story," so it's all just super ironic and adorable. Gonzalez wrote,
As she got down on one knee she said, 'So I talked to your dad, now it's time to pick out a white dress… will you marry me?' Our song has always been 'Love Story' by Taylor Swift so if you know the song you can see how adorable her saying that was!
Swift has been quite the giver in the past.
On Dec. 22, 2017, E! News reported that Swift helped a homeless pregnant fan buy a house. The fan, Stephanie, met the singer at a show in Manchester and was told by the pop star that she wanted to help. Stephanie took to Swift's app, The Swift Life, to share her experience. She wrote,
Long story short our first flat was condemned for health and safety reasons and we lost everything. To add to the stress, during this time Matthew [boyfriend] lost his job. 'My mum told Taylor and just asked her to make me feel special at her show I was attending in Manchester. After the show Taylor took us back to her dressing room where she told me, 'Stephanie, You've been in my life for a long time and you've never asked me for anything. You could have reached out and I would have helped you. But you didn't. Your mum told me... [Taylor] told me she wanted to give me the money back for my ticket that night. What she actually did was help us buy a home and all I needed for my baby.
And back in October 2017, Swift hand-picked around 100 fans to attend a private listening party for her album reputation. One user shared that they ate chicken nuggets and learned about Swift's childhood from her dad. She tweeted, "The last 7 hours consisted of listening to Taylor's unreleased album, eating chicken tenders whilst talking to her Dad about her childhood and getting to give Taylor the biggest hug."
She's literally amazing, you guys.
At this point, I think all of us are wondering, who exactly do we need to write to get a birthday gift? But seriously, all jokes aside, congrats to this happy couple. We can't wait to see what Swift does next!