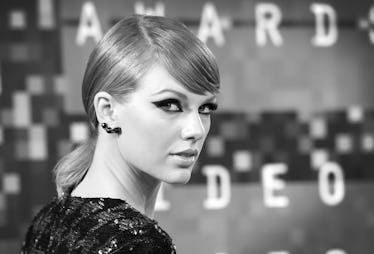 Taylor Swift Changed Up Her Look *Again* & No One Expected This
Jason Merritt/TERM/Getty Images Entertainment/Getty Images
Rest in peace, new Taylor: If a sneak peek at Taylor Swift's latest video is any indication, the #Squad founder's bad girl aesthetic is already dead. Swifties, you may want to put your concert outfit planning on pause, because the Taylor Swift "Call It What You Want" makeup look is here, and it's understated AF.
I often measure my life's progress in terms of how much I've spent on Starbucks non-fat lattes each week, or how much money I have in my bank account after I pay rent. If you're an award-winning musician like Taylor Swift, however, you may go by bigger things such as how many magazine covers you have graced, or the number Grammy Awards you've won this year. Or, more importantly, what new beauty look you'll be sporting to promote your upcoming, sure-to-be-best-selling, album (Nov. 10 can't come soon enough).
Any true Swiftie knows that the Mother of Cats can be extremely elusive before releasing new music, and her soon to be released sixth studio album, Reputation, is no different. Swift first teased the announcement of the new project by deleting all of her social media posts to date and posting cryptic snake videos on Instagram. Now up to her fourth pre-album release single, though, Swift is giving fans a more upfront image by releasing a very personal video montage set along to her newest track, "Call It What You Want." Check it out below!
Surprise alert: Swift's hair returns to its naturally curly perfection throughout most of the video, and her lips are bare! In fact, the current queen of throwing shade is shockingly makeup-free for the most part. She appears chilled AF, sitting by a fire pit, painting a room, and enjoying an oversized glass of wine à la Olivia Pope. It's a stark contrast to the over-the-top glam and concept for "Look What You Made Me Do," and there isn't a serpent in sight. Maybe her high-octane lifestyle has gotten a makeunder, too?
The video was likely filmed by the artist's current boyfriend, British actor Joe Alwyn, which would also explain the absence of her famous cats. But if history tells us anything, it's that Swift may never confirm that theory and instead let the music and hairstyle speak for her.
History also tells us that fans are free to make their own speculations about any and all of Swift's work. As a fan dating back to the days of "Picture to Burn" and "Our Song," I predict this natural beauty look is an homage to Swift's comfort and stability in her new relationship. Swift has spoken about the varying personas that the media pegs onto her, but I think the parred-down Taylor is actually her true self.
In other promotional videos and artwork for her new album, TSwift sported her signature red lip or even darker hues. She wore a luscious maroon shade in one of her 16 beauty looks from the "Look What You Made Me Do" music video. However, the ever-mysterious musician also let the world see her hair in its curly state in some of the shots, perhaps foreshadowing her more natural look to come. Twitter, of course, noticed and had a lot to say about the come-again curls.
Fans have been firing off compliments towards Swift's new-old curls. @avaneka2 was in full fan-girl mode when tweeting, "SHE'S BACK AT IT WITH THE CURLS 💞😭✨👏💯 @taylorswift13 WMYSM #LookWhatYouMadeMeDo#TS6IsComing#TS6#ReputationERA"
@maryanau13 tweeted, "IM HERE FOR THE CURLS OKAY? @taylorswift13#REPUTATIONISCOMING#TS6ISCOMING.it "
@swiftiedolan couldn't contain her excitement, "Taylor swift's curls are back I repeat they're BACK AND RIP ME IM DYING DEAD she's so beautiful omg"
@JepicHQ called out her curly mane and epic knee-high snake boots, "When you Gotta Show Off Your @gucci Boots In a picture awww @taylorswift13 is Back to herself with curly hair Yessss."
But back to "Call It What You Want." Even Swift's social media announcement for the new song is understated. She tweeted out a typewriter-esque note with some choice lyrics and handwritten title of the single. It seems her new less-is-more aesthetic goes beyond her makeup, or lack thereof, and trickles into her overall vibe.
Throughout her career, Swift has had a bevy of high-profile romances, coinciding with almost as many standout looks. This time is different, though. I think we can interpret the laid-back look as Swift letting us all know that her and Alwyn are the real deal, and that she doesn't need any sort of costume or persona to be happy. Call it what you want, but I think the new/old Taylor is here to stay.