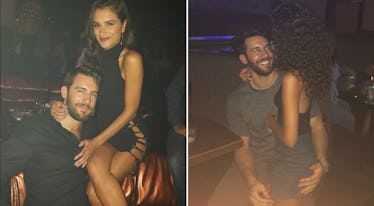 Taylor Nolan & Derek Peth's Body Language Before Their Breakup Reveals So Much
If you don't watch The Bachelor, then chances are you probably haven't seen the franchise's spin-off, Bachelor in Paradise. For those of you who aren't up to snuff, Bachelor in Paradise basically piles a bunch of infamous ex-Bachelor and Bachelorette contestants from past seasons into a luxurious vacation villa in an exotic locale. It comes as a surprise to absolutely no one that drama and debauchery galore ensue. Enter Taylor Nolan and Derek Peth, one of the more well-known couples who got engaged after the show. Taylor Nolan & Derek Peth's body language showed tons of affection throughout the months they were together, which is why their recent split (confirmed to E! News on Tuesday, June 26) caught fans off guard. But hopefully, their body language may be able to shed some light on what went wrong between the couple, who genuinely seemed to be deeply in love.
Taylor and Derek met on season four, and were basically inseparable from day one. Believe me when I say that I am the first one to call BS on anything and everything having to do with The Bachelor, but even I was convinced that their love was real. Although it did come as a surprise that the resident "mean girl" from Nick Viall's season of The Bachelor was so quick to find her way into sweet Derek's heart, this could have been a case where opposites really did attract. I spoke with body language expert Blanca Cobb to see what the Instagram photos from before their split might reveal about what went down.