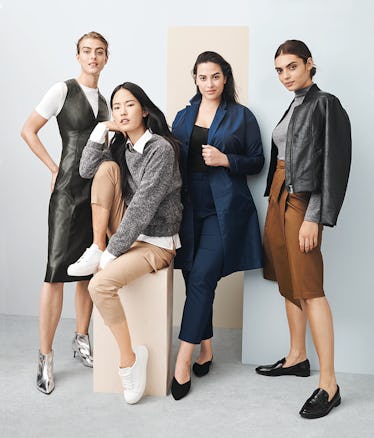 Target Just Dropped A Line Of Work Clothes That's Actually Cool & It's All Under $50
Target
You're probably smack dab in the midst of shopping for your new fall wardrobe so before you get any further and drop some major bucks, you need to know that Target's new Prologue workwear line is good. Like, really, really good, especially if your style leans towards simple, streamlined silhouettes in solid, versatile tones. It's comparable to things you could find at Zara or Mango, so before you spend double the money there you should definitely take a trip to the bullseye.
Target announced the new brand, which is called Prologue, today on their website. "In this case, less really is more," they described it. "Think trend-forward pieces and timeless essentials from blouses and skirts to coats, trousers and more that you can mix and layer—or wear as stand-alone statements—to create an enviable, edited wardrobe without breaking your budget." They're the ideal pieces to wear to work, to brunch, to wherever and they really are super wearable but still pack a trendy punch. "Go ahead, pinch yourself—you're not dreaming!" the press release continues. "It's fashion you'd see on the runway or straight from the streets of London, Copenhagen or Tokyo, made with luxurious, elevated materials (oh hi, matte satin, sleek crepe and textured twill) at an only-at-Target value."
Okay, even I will admit that matte satin and textured twill sounds luxurious AF, and my surprise that Target was selling products made of such fabrics was only compounded when I discovered that the entire collection ranges between $12.99-$49.99. Take a look at its offerings below and you'll understand my reverse sticker shock.
This faux leather dress, though! It's perfect for fall and can be worn alone with heels for a hot date night look or layered over a tee like above for the cutest office outfit ever.
Asymmetrical skirts always make you look about ten times cooler no matter how you style them. And in burnt orange? Swoon.
A tweed coat to live in all fall. I just might.
This long fuzzy vest looks both warm and like it could be a replacement for my favorite winter blanket. How can something be that chic and simultaneously that cozy?
As you can see, Prologue isn't the typical Target brand. But, as Julie Guggemos, the senior vice president of Product Design & Development for Target, clarified, that's kind of the point. "With Prologue, we're looking to inspire—and win over—women who are drawn to a more modern, minimal style… which, by the way, is not the easiest look to create on a budget," she said in a quote on Target's website. "It can require a ton of time and effort to curate, and many of the well-designed, contemporary collections are simply out-of-reach for many. That's where Target comes in—it's where we shine."
Indeed, as someone who certainly can't afford the sublime simplicity that is Céline (or, should I write, Celine), it's amazing to see that an affordable retailer is channeling that same aesthetic into clothes that are actually in reach.
The best part? You don't have long to wait before you can shop the collection. It drops online and in stores on the 14th, just in time for fall.